5 Secret Ways Cheap Cabins in Pigeon Forge Can Save You Money
June 17, 2022
Many families look forward to vacations all year long. After months of careful planning and saving while anxiously crossing off calendar days, we know it's important you get the vacation you and your family really want. We're proud to offer luxury cabins in Pigeon Forge at great rates, and we want to make sure you get as much out of your vacation as possible. Find out more by looking at these top 5 secret ways cheap cabins in Pigeon Forge can save you money:
1. Amenities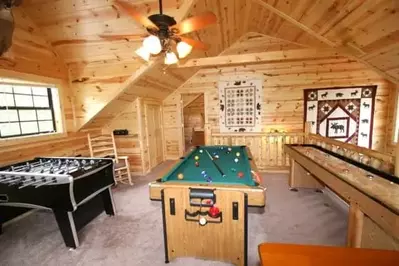 Our cabins offer amenities and options that ensure your Smoky Mountain stay is both relaxing and fun. These features, however, can also save you a pretty penny while you're vacationing with us. By staying in at your Pigeon Forge cabin even one or two nights of your trip, you can save a lot of money without sacrificing your fun. Depending on which one of our cabins you choose, amenities may include hot tubs, fireplaces, wireless internet, and fully equipped kitchens. We even have Pigeon Forge cabins with home theaters , game rooms ,air hockey tables, and arcade games. With so much in-cabin fun, you may not even want to leave!
2. Sights to See
In addition to in-cabin fun, choosing to stay at one of our affordable Pigeon Forge cabins provides you with access to the gorgeous sights and entertainment in the Smokies, and all of it is free or affordable! The Great Smoky Mountains National Park has hiking trails with historic sights, Smoky Mountain wildflowers and waterfalls, in addition to several other walking trails throughout the area. All you need is a camera and a sense of adventure for days of outdoor fun! It only costs $5 for a daily parking pass for the park, then you can explore everything the Smokies has to offer! The Parkway in Pigeon Forge and downtown Gatlinburg are both free to explore and enjoy, too.
3. Pigeon Forge Cabin Specials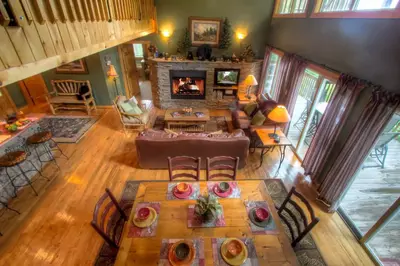 We offer seasonal and year-round cabin specials that can save you money no matter when you're planning on visiting. From senior and military discounts to savings for repeat guests and specific cabins, you're almost guaranteed to save when you book with us. Our Pigeon Forge cabin specials change all the time, so be sure to check them often to make sure you're getting the best deal! The specials will make our cheap cabins in Pigeon Forge even more affordable!
4. Take the Trolley
Getting around and parking can be a bit tricky when you're vacationing in a new place or somewhere with a lot of attractions in one concentrated area. Utilizing public transportation is not only super helpful and easy when trying to get from one area to another, it's also a great way to cut costs no matter what area you want to travel to. Pigeon Forge Trolleys can take guests all over the Smokies for as low as $2.50 a day. Not only does this reduce your gas and parking fees down to nothing, it's also a great way to sightsee! Trolleys run on main streets every 20 to 25 minutes and to Wears Valley every 40 to 45 minutes.
5. Free Smoky Mountain Attraction Tickets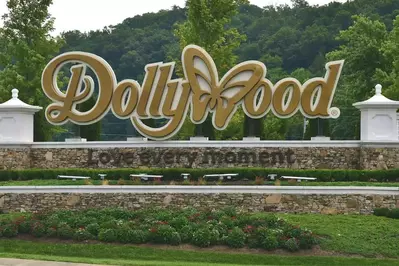 When you stay at one of our affordable cabins, you can save money on area attractions and entertainment with our Free Adventure Pass . For every night you stay with us, you'll receive tickets to local attractions you'll definitely want to visit. Experience thrilling rides and entertaining shows at Dollywood , or see incredible feats at the Lumberjack Feud show You can even get some free treats around town!
There's nothing more satisfying than knowing you're saving money on a trip while you're still having an amazing time. The next thing on your list is to book one of our cabins! Love unique places? Check out these cool places to stay in Gatlinburg.
Browse All Our Cheap Cabins in Pigeon Forge
There's nothing cheap about our cabins in Pigeon Forge except for the price! You can enjoy both quality and comfort for an affordable price when you stay with us. You can find cheap cabins for every type of vacation, from a romantic getaway to a family vacation.
Be sure to check out our cheap cabins in Pigeon Forge for even more savings during your vacation!