6 Facts About the Great Smoky Mountains Everyone Should Know
September 16, 2016
When you stay at our cabin rentals in Gatlinburg or Pigeon Forge, you will be minutes away from one of America's most treasured destinations: the Great Smoky Mountains National Park. This area in East Tennessee is full of so much history and interesting information, so we want to share some Great Smoky Mountains facts with you! To help you prepare for your vacation, Auntie Belham's Cabin Rentals has put together 6 facts about the Great Smoky Mountains that everyone should know:
1. The Smokies are the Most Visited National Park in the U.S.
We don't want to brag, but the numbers don't lie: the Smokies are #1! In 2015, the Great Smoky Mountains National Park had well over 10 million visitors. The country's second most popular national park, the Grand Canyon, had only half that amount. Here is a quick look at the average number of visitors in America's top national parks from 1996 – 2015:
Great Smoky Mountains (NC, TN) – 9,572,089
Grand Canyon (AZ) – 4,449,030
Yosemite (CA) – 3,615,372
Olympic (WA) – 3,216,918
Yellowstone (WY, MT, ID) – 3,155,627
One of the main reasons the Great Smoky Mountains National Park is so popular is its convenient location near Interstate Highway 40. Straddling the border of East Tennessee and Western North Carolina, the national park is only a day's drive from 2/3rds of the nation's population. Here are a few major cities close to the park:
Asheville, NC – 2 hours
Charlotte, NC – 4 hours
Nashville,TN – 3 hours, 40 minutes
Lexington, KY – 3 hours, 40 minutes
Atlanta, GA – 4 hours
3. The Great Smoky Mountains National Park Has No Entrance Fee
Unlike other national parks, the Great Smoky Mountains National Park has no entrance fee! When the state of Tennessee transferred land to the federal government to establish the national park in 1934, the state legislature included a clause guaranteeing that "no toll or license fee shall ever be imposed" on Newfound Gap Road, the highway connecting Gatlinburg, TN and Cherokee, NC. Thanks to this clause, the national park has remained free to visit for over 80 years!
(See Also: Top 5 Smoky Mountain Hiking Trails for Your Bucket List)
One of our favorite facts about the Great Smoky Mountains is how they got their name. The Cherokee called the mountains "Shaconage" (Sha-Kon-O-Hey), which means "land of the blue smoke". When Euro-Americans settled in the area in the early 1800s, they took inspiration from the Cherokee when they named the Great Smoky Mountains and the nearby Blue Ridge Mountains.
5. The "Smoke" in the Mountains is Actually Fog
What gives the mountains their signature smoky look? The "smoke" is in fact fog that is released by vegetation in the mountains. The millions of bushes, trees, and other plants in the Smokies all give off a little vapor when they exhale, and this comes together to form the magical haze that wafts through the area. The fog often appears blue because the vapor scatters blue light from the sky.
6. The Smokies Have an Incredible Variety of Animal and Plant Life
There are more than 17,000 species of plants and animals living in the Great Smoky Mountains National Park! Scientists estimate that there are also between 30,000 and 80,000 species that haven't been discovered yet. Here are just some of the flora and fauna that call the Smokies home:
Over 100 types of native trees, which is more variety than you will find in all of northern Europe
Roughly 1,500 black bears, which works out to two bears per square mile
30 species of salamander, including 24 types without lungs
200 types of birds
80 species of reptile and amphibians
67 varieties of fish
65 species of mammals
Did reading these Great Smoky Mountain facts make you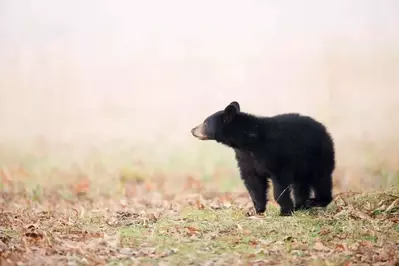 want to visit? Auntie Belham's offers a wonderful collection of cabins near the Smokies that are perfect for your next vacation. To start planning your getaway, check out our complete listing of Smoky Mountain cabins!