Top 5 Benefits of Staying at Our Gatlinburg Cabins by the River
March 30, 2020
If the goal of your Smoky Mountain vacation is to escape from the hustle and bustle of daily life, don't miss the opportunity to stay in one of our riverside cabins in Gatlinburg! These lovely cabins offer the perfect way to experience the great outdoors while still being just minutes away from the action of downtown Gatlinburg! Here are the top 5 benefits of staying at our Gatlinburg cabins by the river:
1. Peaceful Ambiance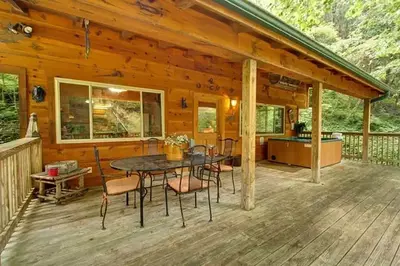 When it comes to "getting away from it all," just wait until you experience the peaceful ambiance at our Gatlinburg cabins by the river! As you leave the sounds of traffic and city noise behind, the only thing you will hear at our cabins is the wonderful sounds of nature! Relax on your private deck as you listen to the tranquil sound of the river passing by your cabin or to birds chirping in the distance. The evening hours become even more magical as thousands of stars begin to twinkle in the night sky!
2. Fully Equipped Kitchens
All of the cabins at Auntie Belham's Cabin Rentals feature fully equipped kitchens so that you can easily prepare meals throughout your stay! After stocking up on groceries on the way to your cabin, you have everything you need to make breakfast, lunch and dinner! The kitchen not only comes in handy for saving time, but it saves you a tremendous amount of money from dining out at restaurants! If you do decide to sample some Gatlinburg restaurants, take advantage of the refrigerator to store all of your delicious leftovers!
3. Close to Downtown Gatlinburg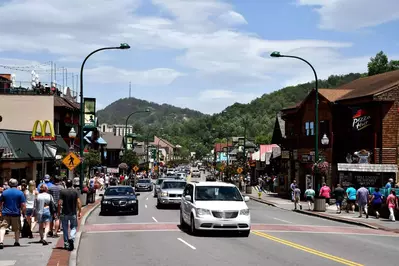 Although our Gatlinburg cabins by the river are situated in isolated locations, they are still just a short drive away from all the activities in downtown Gatlinburg! Whether you want to go play miniature golf, ride a mountain coaster, explore a world class aquarium or do some souvenir shopping, you will find everything only minutes away! After strolling along the busy downtown streets, you can look forward to returning to the peaceful serenity of your cabin!
4. Fresh Mountain Air
You never have to worry about pollution at our Gatlinburg cabins by the river as the only thing you will be breathing is fresh mountain air! While our cabins are fully climate controlled, use this opportunity to open your cabin windows and fill your lungs with the clean air of the Smokies! The temperature in the Smoky Mountains is generally moderate all year long so you can always step outside to enjoy the weather!
5. Comfortable Bedrooms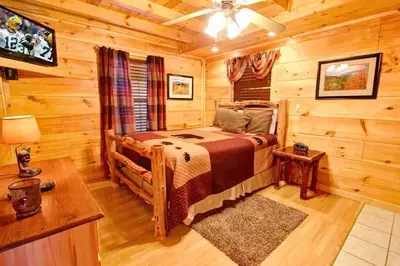 After a busy day of exploring the Great Smoky Mountains National Park or downtown Gatlinburg, the one thing you really need is a solid night of rest! While staying at our Gatlinburg cabins by the river, we guarantee that you will sleep like a baby in our comfortable bedrooms! If you are staying with a group of family members or friends, the separate bedrooms offer much more privacy and comforts than staying in a traditional hotel room!
Thinking about staying in Pigeon Forge? Check out these cabins on the river in Pigeon Forge!
Check out all of our Gatlinburg cabins by the river today to plan your peaceful getaway to the Great Smoky Mountains! We look forward to seeing you soon at Auntie Belham's Cabin Rentals!