Best Dining In Gatlinburg For Celebrations
March 22, 2013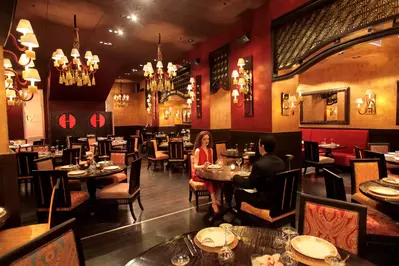 The beautifully scenic town of Gatlinburg, Tennessee is considered one of the best vacation locations in the country. With scenic, mountainous views and gorgeous natural scenery, it's no wonder why this town gathers so many visitors. With rustic charm and a beautiful landscape, this town certainly has some of the heartiest, comforting cuisine in the area. As you read this article, you'll learn more about the best dining in Gatlinburg.
One of the best restaurants that perfectly pairs with the rural surroundings of Gatlinburg is Greenbrier. This family-friendly dining establishment is ideal for an outing with your kids because of the diverse menu. Popular appetizer items that are sure to satisfy any palate include French onion soup, crab stuffed mushrooms, deep fried lobster, and more. Delicious entree items include mountain trout, blackened chicken, Cajun tilapia, prime rib, pork tenderloin, and more. There also many decadent dessert options like cranberry bread pudding topped with whiskey sauce, strawberry cheesecake, chocolate turtle cheesecake, and more. Greenbrier is also a top choice if you choose to leave the kids behind and enjoy a romantic date night because of the impeccable adult beverages offers. Some adult, coffee-based drinks offered include Irish coffee, Tennessee Mud with amaretto and Jack Daniels, Parisian coffee with cognac, and more. Greenbrier is also an appealing choice because they offer a wonderful kid's menu that features a five ounce prime rib, hamburger, chicken tenders, deep fried shrimp. With such an extensive menu, there is certainly for everyone to savor at Greenbrier.
With a great location on the Parkway, a menu with wide variety for the family, and a great mountain retreat ambiance the Cherokee Grill & Steakhouse is one of the favorite options for locals and guest dining in Gatlinburg TN. Here, you can arrange banquet planning and enjoy a private dining experience that is ideal for birthday parties or bachelor/bachelorette parties. The menu showcases a plethora of food options that will certainly appease any foodie. Savory appetizer items include bruschetta, crab bisque soup, crab cakes, and more. There are also several salads to choose from like Caesar salad, grilled Asian steak salad with peanut sauce, grilled chicken salad with a honey-lime dressing, and a traditional wedge salad paired with shrimp. Cherokee Grill also provides a lovely selection of hearty burgers and sandwiches including their signature Cherokee Grill burger with mushrooms and cheddar cheese, Philly steak sandwich, BBQ chicken sandwich, crab cake sandwich, and more. There also many exquisite entrees to choose from like fried chicken with mashed potatoes, fried catfish, pork chops, filet mignon, blue cheese topped sirloin, and more. The selection of sides include mouth-watering items like baked macaroni and spinach, baked potato, blue cheese grits, Carolina herbed rice, and more. Cherokee Grill also has a generously sized gluten free menu available.
With such a wide range of meal options available, you can be certain your dining experience in Gatlinburg will be memorable. Whether you're looking for the perfect eatery for a romantic night out, a family dinner, a birthday party or a bachelor party, you can be sure you'll be wonderfully accommodated at Greenbrier or the Cherokee Grill.