Ride Your Bicycle on Smoky Mountain Trails
August 2, 2013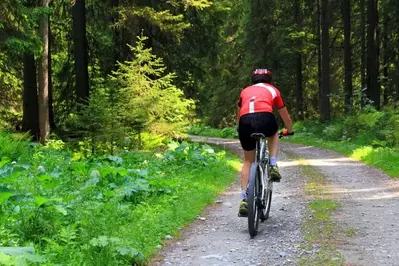 Millions of people visit the Smoky Mountains year after year. Next time you visit the mountains, travel with your bicycles. Bicycling is a great way to exercise and enjoy the nature and beauty of the area while riding along the Smoky Mountain trails. Make sure you know which trails to travel and what you need for an enjoyable ride through the Smokies!
Where to Bike
Bicycles aren't allowed on all of the trails for safety reasons. Many of the paths are steep, narrow and have heavy automobile traffic, according to the National Park Service . For the safety of bikers, the national park has designated specific trails for bicycling.
One of the most popular Smoky Mountain trails for bicycling is the Cades Cove Loop. The trail is easy to navigate and offers a variety of things to see. The 11-mile loop is closed to vehicles on Wednesday and Saturday mornings until 10 a.m. for bicyclists and pedestrians. Along the path, cyclists will see many old cabins and churches in the Cades Cove area. It is likely that you will even be able to see some wildlife in Cades Cove during those early morning hours!
There are two Smoky Mountain trails that allow bicycling. The Gatlinburg Trail is a pet friendly walking and bicycling path. The trail begins at the Sugarlands Visitor Center and runs nearly two miles, one-way. Other roads available for bicycling include the Greenbrier and Tremont areas.
What You Need
When you are riding through the mountains, you don't need anything in particular other than a helmet, so make sure to pack yours! In the State of Tennessee all individuals, age 16 and under, are required to wear a helmet. Although, we encourage all visitors, even those over age 16, to wear a helmet while bicycling. It is best to wear tennis shoes and comfortable clothes for your bike ride, too!
After a day of riding on the Smoky Mountain trails, you can rest and relax in one of our beautiful Gatlinburg cabins. Each cabin is fully-equipped with all of the amenities to make your vacation spectacular. For the best deal on your stay in the Smokies, check out our 'Specials' page or contact us at (877) 369-9694 to speak with one of reservationists.