CBS's show The Doctors show touches a families life in the Smoky Mountains
June 3, 2014
(From left to right) Charlie, Auntie Belham's Cabin Rentals owner John Madewell and Carmelita pose in front of the couple's vacation rental.
Every day at Auntie Belham's Cabin Rentals we are fortunate to meet a variety of guests from all over the world. Each family has a story to tell, and each story is very different.
When we first met Charlie and Carmelita from Nashville, we knew that they were special.
Their Story
Every day Charlie would walk to meet Carmelita after work, but one day he wasn't there. With a sinking feeling that something bad had happened to her husband, Carmelita drove with her grandchildren in the car to the walking route he normally took. The uneasy feeling that she felt, however, did not prepare her for what she saw.
While walking, Charlie had been struck by a moving car and was currently being rushed to the nearest hospital that was 20 miles away. By the time he arrived, doctors gave him a slim chance of survival and he had lost all but 10% of his body's blood supply.
Charlie spent five days in the ICU at Vanderbilt Hospital in Nashville. What happened next was truly miraculous.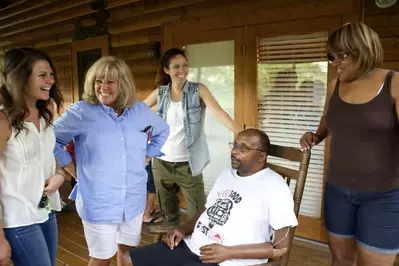 Charlie and Carmelita spending time with members of the Auntie Belham's Cabin Rentals Family.
The Doctors
When Charlie was still in the hospital, the doctor told him that the prosthetic arm that he wanted for Charlie would cost upwards of $60,000. The couple did not have that kind of money, so they did what they could do–pray.
At this time Carmelita also took it upon herself to try and find someone who could help her husband. During her quest to find a solution, Carmelita wrote the producers of CBS's show The Doctors. Unbeknownst to Charlie, Carmelita told the show's executives all about her husband's accident, his miraculous recovery and the cost of the prosthetics.
It wasn't until Dr. Travis Stork, an E.R. physician on the show, showed up at the couple's home that Charlie even knew what his wife had been up to. During the show, Dr. Travis told Charlie that the Hanger Clinic offered to gift him a brand new prosthetic. For Carmelita, who had sacrificed so much to help take care of her husband, Dr. Travis explained that a Gatlinburg cabin company was gifting her and her family a four night and five day all-expenses paid Smoky Mountain vacation. That's where we came in.
After hearing Charlie and Carmelita's story, we knew that there was something special about their family, and we wanted to do our part in helping the couple relax and unwind. We were fortunate to have them as guests this past weekend, and we look forward to seeing them again in the future.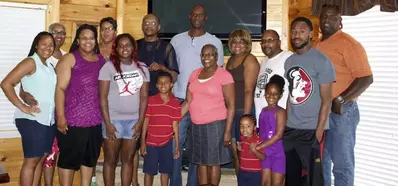 Three generations of family traveled together to join Charlie and Carmelita during their Smoky Mountain vacation.
While They Were Here
Because it wouldn't be a true vacation without being surrounded by the ones they love, Charlie and Carmelita invited their family to join them during their stay. Three generations of family members traveled from all across the Eastern United States, including Kentucky, Florida, Georgia and Ohio to spend a week with Charlie and Carmelita.
A very close-knit bunch, the family enjoyed a dinner show at Lumberjack Feud where the kids were invited up on stage and given a piece of the log from the lumberjacks, they rode go karts, visited the Ripley's Aquarium in Gatlinburg, and most importantly–they spent time with one another.
Many of the attractions that the family visited can be found on our Smoky Mountain Adventure Pass that gives guests free tickets to several Gatlinburg and Pigeon Forge attractions.
What's Next
Like many visitors to the Smoky Mountains, Charlie and Carmelita have already started planning their next trip to the area. Having survived such a stressful year that many couples could not even imagine, the two have decided they want to renew their vows in their very own Smoky Mountain wedding.
With a big smile on her face, Carmelita talked about her excitement to put on a white wedding dress, see Charlie in a tux and put a wedding band on her husband's new hand. Charlie's wedding ring was lost in the accident.
Since his accident, Charlie has continued to tell his story at many local venues near his home. He hopes that his story will inspire others whose lives have been affected by similar tragedies.
The couple is also looking forward to their follow-up appearance on The Doctors.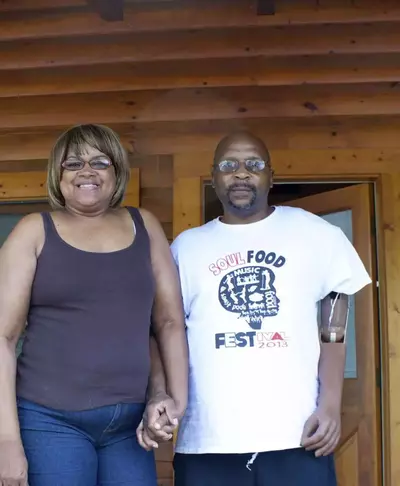 How Charlie and Carmelita Met
Carmelita was 16 when she met Charlie. He was a couple years older than she was, but they were high school sweethearts.
"He was my first boyfriend," said Carmelita as she smiled and turned to look at Charlie.
However, it wasn't happy ever after quite yet for the young couple. Like most high school romances, they eventually went their separate ways. Years later, not knowing the couples past, a mutual friend set Charlie and Carmelita up on a blind date.
Today, nearly two decades later, they are still very much in love.
What's Your Story?
Do you have your own story of love that lead you and your family to the Smoky Mountains? Let us know about it on our Facebook page !
Also, if you want to experience a few of the fun and exciting things that Charlie, Carmelita and their family were able to during their Smoky Mountain vacation, begin planning your next trip with us today by giving us a call at (877) 369-9694.