Family Meals Are Easy in Spacious Cabin Kitchens
December 16, 2013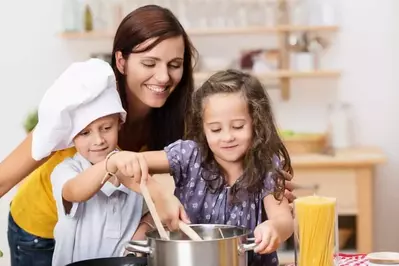 Looking for a place to cook big family meals during a vacation? Some days, there is just not enough time to indulge in creativity in the kitchen, but, at Auntie Belham's Cabin Rentals, creativity is encouraged. Our Gatlinburg cabins with spacious kitchens are the perfect place to create, munch and indulge.
For those families with kids who enjoy helping in the kitchen, some cabins can be too tight to allow anyone other than the family cook in the kitchen. Auntie Belham's Cabin Rentals, however, has cabins with spacious kitchens and open living and dining areas to keep the family together and interacting through meal prep and cleanup.
Time in the kitchen with family is a fun way to relate on vacation. Gathering around an island or bar to chop, peel and mix can involve the whole group, young and old, to make food an adventure. From the windows of our Gatlinburg cabins with spacious kitchens are the scenic views the Smoky Mountains are known for. After preparing the meal, the hardest decision to make will be dining around the table or out on the porch. Both have great views and plenty of seating options.
If you have little ones, you know snacks in-between meals can prevent a meltdown. To prepare for hiking or traveling, having snacks prepared ahead in our Gatlinburg cabins with spacious kitchens ahead will prevent kids from spoiling their appetites and satisfy them to prevent grumpy moods. To edge off hunger between meals, fresh or dried fruit are healthy options, along with vegetables and low-calorie dip.
To find out more information about Auntie Belham's Gatlinburg cabins with spacious kitchens, contact our reservation staff at 1-877-369-9694. To see the cabins for yourself, check out our cabins by location to see what amenities they offer and exactly where they are located.