Top 4 Reasons to Plan a Girls Weekend to Our 3 Bedroom Cabins in Pigeon Forge
March 3, 2022
If you are looking for the perfect place to spend a fun weekend with your girlfriends, there's no better place to stay than in a private cabin rental! Our Pigeon Forge cabins have everything you need for a fun girls weekend in the Smoky Mountains, including cozy bedrooms, scenic views, and fabulous amenities! Learn the top 4 reasons why you should plan a girls weekend getaway to our 3 bedroom cabins in Pigeon Forge:
1. Comfortable Level of Privacy
While staying in our 3 bedroom cabins, you and your girlfriends can enjoy a comfortable level of privacy while still staying under the same roof! After a fun day of soaking in the hot tub, relaxing on the deck, or exploring the sights of Pigeon Forge, you can look forward to retreating to your own private bedroom for a wonderful night of rest. Our cabins are a much better alternative than staying together in a hotel room where you have a minimal level of privacy and hardly any amenities. If you did decide to stay in separate hotel rooms, the cost would come out more expensive than sharing one of our 3 bedroom cabins in Pigeon Forge!
2. Fully Equipped Kitchens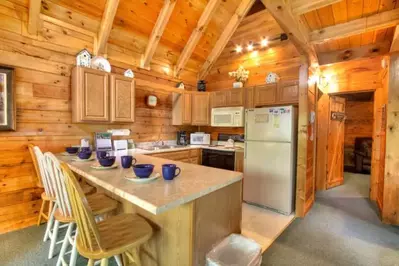 3. Affordable Rates
One of the amazing things about all of our cabins in Pigeon Forge is that they are available for the most reasonable rates in the Smokies! To make your stay even more affordable, Auntie Belham's Cabin Rentals is pleased to offer a number of excellent cabin specials throughout the year. As if that doesn't sound good enough, we even offer free attraction tickets to our guests simply for staying with us!
4. Close to Fun Activities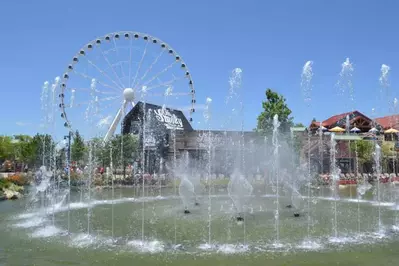 The Island in Pigeon Forge
Great Smoky Mountains National Park
Check out all of our 3 bedroom cabins in Pigeon Forge today to plan your girls weekend getaway to the Great Smoky Mountains! We hope to see you soon!