Top 3 Reasons to Start Your Visit to the National Park at Sugarlands Visitor Center
February 25, 2019
If you are considering a scenic drive or hike through Great Smoky Mountains National Park, the best place to start your adventure is at the Sugarlands Visitor Center! This informative visitor center is conveniently located just two miles south of Gatlinburg on Route 441 and is open every day of the year except Christmas Day. Here are the top 3 reasons to start your visit to the national park at the Sugarlands Visitor Center:
1. Excellent Park Overview
If this is your first time visiting the national park, the Sugarlands Visitor Center provides an excellent overview of the park with a free 20 minute film! You can also browse through the bookstore to find all types of information about the park, including books about hiking trails, wildlife, historical structures, and more! This is also the best place to find out about hiking opportunities from a park ranger, who can provide the latest details about any trail restrictions. While you are there, be sure to check out the extensive natural history exhibits and take advantage of the restrooms!
2. Starting Point for Gatlinburg Trail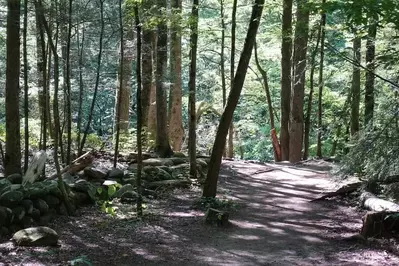 3. Scenic Nature Trail
Another fun hike that begins at the Sugarlands Visitor Center is the Fighting Creek Nature Trail. This is an easy 1.2-mile loop trail that is appropriate for all ages and follows Fighting Creek, an important tributary of the West Prong of the Little Pigeon River. At the loop turnaround point, you will come across the historic John Ownby Cabin that has been restored by the National Park Service. This modest shack is more than 150 years old and is open to the public. So, you can admire the craftsmanship and imagine what life was like in the late 19th and early 20th centuries! To access the trail, just walk down the concrete path to the left of the Sugarlands Visitor Center (near the vending area) and it will quickly turn into the Fighting Creek Nature Trail.
Where to Stay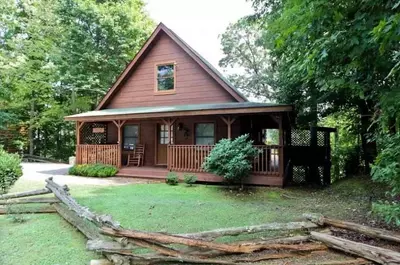 Check out all of our cabin rentals in the Smoky Mountains today to plan your vacation near the Sugarlands Visitor Center! We look forward to seeing you soon at Auntie Belham's Cabin Rentals!