What to Pack When Renting A Pigeon Forge Cabin With Pool Access
April 21, 2015
Summer is almost here and that means it is time to dust off your bathing suites and start planning your next vacation inside a Pigeon Forge cabin with pool access. Not only do these cabins provide guests an easy way to cool off on a hot day, but it also gives a free source of entertainment to enjoy throughout their stay.
That being said, what extra items should you pack when renting a Pigeon Forge cabin with pool access?
(See Related: 26 Things to Pack For a Smoky Mountain Cabin Vacation)
Packing List For Pigeon Forge Cabins With Pool Access
Look at What's Provided
The first step to planning a stay in a Pigeon Forge cabin with pool access is to look at what is already provided for you during your trip. For example, at Auntie Belham's Cabin Rentals, most of our cabins already offer towels for guests to use during their vacation. This means that you won't have to pack any extra towels to use when you go to the pool.
Don't worry, you won't have to use a dirty towel for the rest of your trip. Most of our cabins also offer a washer/dryer so you can easily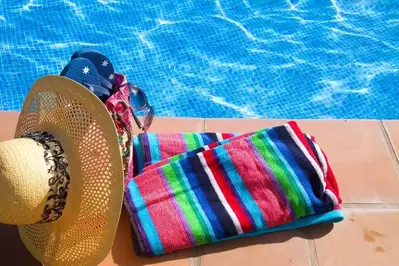 clean the towels after you have had your fun at the pool.
Pack a Pool Bag
There is no denying the importance of packing a pool bag for when you stay in a Pigeon Forge cabin with pool access. Not only does this give you something to easily transport everything you need for a fun and memorable day by the pool, but it also gives you a place to securely store your belongings when you are having fun in the water.
The perfect pool bag is lightweight and water resistant. We recommend that you also consider a bag that offers a fun and festive pattern so you can easily spot it among other families' bags.
Bring Your Sunscreen
Whether or not you are staying in one of our Pigeon Forge cabins with pool access, now that summer is here, sunscreen is one of the most important items families can bring for their vacation. The combination of the heat from the sun and clear blue skies is perfect for causing sunburns and other serious ailments if you aren't careful.
Sunglasses
Just like you want to pack some sunscreen to protect your screen, you will want to remember to pack sunglasses to protect your eyes. If your eyes experience a prolonged exposure to the UV rays of the sun, you have a higher chance of causing permanent damage to your eyes. Not to mention, spending a few outs in the bright sun will also affect your eyes' ability to adapt to the light indoors or at night, thus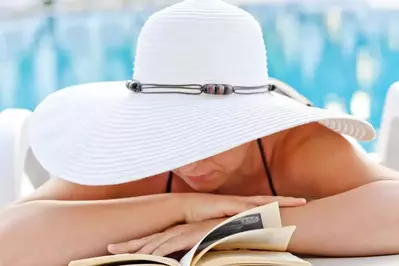 making it harder to see later when you are at dinner or trying to drive.
Something to Entertain Yourself
Spending the day by the pool is the perfect excuse to catch up on some reading. Whether it be your favorite book, magazine, newspaper or blog, nothing beats doing a little reading while you are sitting by a relaxing pool.
For kids, you can always pack a handheld game system, a book they need to read for school, homework, or card game to keep them busy in between sessions in the pool.
Remember Your Pool Floats
Now, when we say pool floats, we aren't talking about the large pool floats that you use to sit on in the middle of the water. No, we are talking about the floats that young children may need to help them swim in the pool.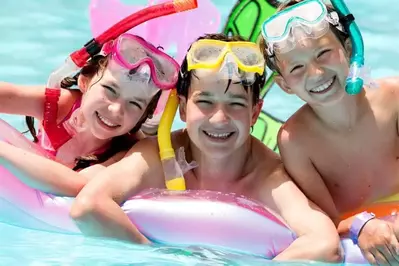 Not only will packing your pool floats help you feel more comfortable with your kids spending time in the pool, but it will also help them enjoy the experience as well.
Please keep in mind, most of our pools do not have a lifeguard on duty, so it is up to guests to practice pool-side safety.
Snacks to Refuel
Swimming all day can take a lot out of you. That is why we recommend that guests remember to pack some light snacks to nibble on while they are hanging out by the pool enjoying the warm weather. Spending the day swimming can take a lot out of you energy wise, so the snacks will help you keep the party going for hours to come.
In your snack pack, you should also plan on storing a few bottles of water to help you and your family stay hydrated during your time by the pool.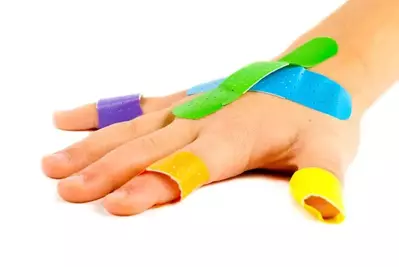 First Aid Kit
Last, but not least, you may want to consider putting together a small First Aid Kit. This will help you be prepared in the unlikely event that someone slips by the pool ends up with a sunburn or any other uncomfortable accidents.
An example of what to pack in your First Aid Kit include:
Aloe Vera Gel for Sunburns
Lotion
Chapstick
Waterproof Bandages
Eye and Ear Drops
Insect Repellent
To learn more about how to prepare for a relaxing vacation inside one of our Pigeon Forge cabins with pool access, feel free to give us a call or fill out our Auntie Belham's Contact Form! With over 20 years of experience, our travel experts will be more than happy to answer any and all questions you and your family may have.