All You Need to Know About the Great Smoky Mountain Hot Air Balloon Festival
August 2, 2019
Get ready to enjoy a summertime spectacle as the evening sky comes alive with a balloon glow at the Great Smoky Mountain Hot Air Balloon Festival! This is a unique opportunity to see a magnificent display of colors against the backdrop of the breathtaking Smoky Mountain sunset! Here is everything that you need to know about attending the Great Smoky Mountain Hot Air Balloon Festival:
1. What to Expect
The Great Smoky Mountain Hot Air Balloon Festival is an exciting family-friendly event with a stunning balloon glow, live entertainment, delicious food, craft beer, tethered balloon rides, and more! During the afternoon, you can enjoy all types of fun activities, such as a rock wall, face painting, water balloon wars, and a trackless train! There will also be regional and craft vendors at the event, as well as wine tasting from Nine Lakes Wine Country. Tickets for the wine tasting will be available on site for just $10 and include a commemorative wine glass and a 6 compartment wine tote with purchase. If you are interested in a tethered balloon ride that rises to a height of 30 feet, you can purchase ride tickets on the day of the event for $20 per person. The rides last about 5 to 7 minutes, and guests must be at least 9 years old to participate.
2. Dates, Times and Location
The festival takes place on Saturday, Aug. 17 from 3 pm until 9 pm at the Townsend Visitor Center, which is located at 7906 East Lamar Alexander Parkway in Townsend, TN. The parking lot opens at 2:30 pm and the fun kicks off at 3 pm with Dr. Magical Balloons, Mo'Town Cloggers, and the Appalachian Surf Team. The balloons begin to inflate at dusk and glow for approximately 1 hour, so the balloons are normally up from about 8 pm to 9:30 pm.
3. Ticket Information
Parking for the Great Smoky Mountain Hot Air Balloon Festival is $20 per car online. Tickets for a Lift Off Tethered Ride are $20 each, and tickets for Elevated Expectations are $125 each. An Elevated Expectations ticket includes a VIP viewing, tethered ride, gourmet picnic, and more. The actual entrance to the festival is free! Although outside food is not allowed into the event, there will be plenty of vendors and food trucks on hand to satisfy all of your cravings! This is a rain or shine event, so in the case of bad weather, the balloonists will perform a candlestick glow rather than a balloon glow.
Where to Stay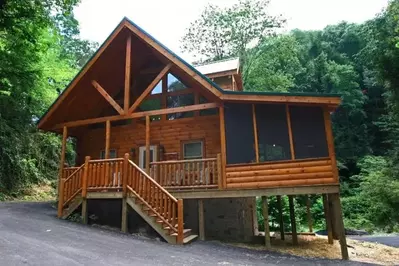 Stay close to the Great Smoky Mountain Hot Air Balloon Festival with a vacation at Auntie Belham's Cabin Rentals! Our beautiful cabins are just a short drive to the event location in Townsend, TN and have all the amenities you need for a wonderful visit to the Smokies! We have cabins ranging from 1 to 9 bedrooms, as well as a selection of pet-friendly cabins for your favorite furry companion!
Check out all of our cabins in the Smoky Mountains today to plan your stay near the Great Smoky Mountain Hot Air Balloon Festival! We look forward to seeing you soon at Auntie Belham's Cabin Rentals!