Top 6 Kid Friendly Attractions in Gatlinburg with the Best Views
December 4, 2018
Gatlinburg brings in millions of visitors every year, and it's no wonder why! There are countless attractions that offer gorgeous views of the mountains and the downtown area. Whether you're vacationing in Gatlinburg or just passing through, you'll want to have your camera or phone ready because there are some amazing photo-ops here! To help you make the most of your trip, here are 6 kid friendly attractions in Gatlinburg with the best views.
1. Cades Cove
Cades Cove is one of the most popular destinations in the national park! From auto touring and hiking to bicycling and picnicking, there is something for everyone here. While you're enjoying all of the outdoor activities in this beautiful valley, you will be surrounded by the mountains and peaceful wooded views. You may even encounter some native wildlife along your way such as white-tailed deer, which are very common in this area. Be sure to check out these other family-friendly things you can only do at Cades Cove to get the ultimate experience!
2. Gatlinburg Sky Lift
With breathtaking sights of the Smokies at 1,800 feet high, the Gatlinburg Sky Lift is the best seat in the house! Take the smooth and scenic ride to and from Crockett Mountain as you experience the natural beauty of the national park and downtown Gatlinburg.
3. Firefly Village at Anakeesta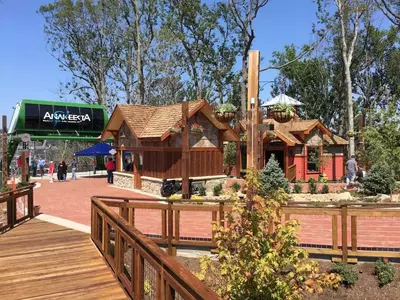 Shop and eat among the treetops at Firefly Village at Anakeesta! You can take in the numerous scenic overlooks and the nearly 360-degree view of the surrounding mountain range. You can even spot Mt. LeConte as well as downtown Gatlinburg. While you're here, be sure to get some shots of the kids in front of all the fantastic scenery.
4. Gatlinburg Scenic Overlook
The Gatlinburg Scenic Overlook is one of the most photographed areas in town! When you visit, you can see the entire town of Gatlinburg with the majestic backdrop of the Smokies! There is also no admission fee to see this gorgeous sight and it's open year round, except in inclement weather.
5. CLIMB Works
Experience the beauty of the Smokies from new heights at CLIMB Works ! The Mountaintop Zipline Tour begins with an ATV ride up the mountainside. Once you reach the ziplines, you can enjoy panoramic mountain views as you zip next to friends and family on their dual lines!
6. Gatlinburg Space Needle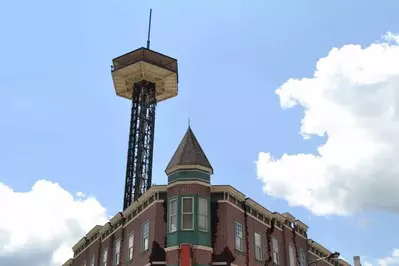 The Gatlinburg Space Needle is a 407-foot observation tower that overlooks the downtown area and offers a 360-degree view of the Smoky Mountains! Ride the glass elevator up 400 feet to the observation deck and you can take it all in with free viewfinders.
Where to Stay
If you're looking for a Smoky Mountain paradise complete with all the comforts of home, look no further than our Gatlinburg cabin rentals! You can admire the gorgeous river and mountain views from a spacious back deck or a bubbling hot tub. Whatever your heart desires, we have it here! We also have pet-friendly cabins available, so you and your furry friend can enjoy the views together.
When you're not out exploring the Smokies at these attractions in Gatlinburg, we'll be sure to take great care of you! Start planning your getaway today and browse our selection of Gatlinburg cabin rentals. We look forward to seeing you at Auntie Belham's Cabin Rentals!