3 Beautiful Scenes You Can Enjoy from Our Gatlinburg Cabins with a View
April 10, 2017
A view is simply a view, right? Wrong – at Auntie Belham's Cabin Rentals, that couldn't be further from the truth. We offer affordable Gatlinburg cabins with views of every kind, allowing you to enjoy all facets of the Great Smoky Mountains from your cabin. Looking for a classic mountain view or a riverside vista? What about a cozy look at the surrounding wooded expanse? We offer all of the above with cabins of every size and all types of amenities and options. Learn more about these spectacular views and the cabins that offer them below:
1. Breathtaking Mountain Views
Our cabins with mountain views offer the chance to see the Smoky Mountain foliage at its best. From your own private deck, you can see the changing leaves in the fall, snow-tipped trees in the winter, and the rebirth of lush greenery in the spring and summer. Those seasonal views can't be beat, especially when you can enjoy them along with the wonderful amenities our cabins have to offer, such as theater rooms and swimming pool access. Your stay at one of our Gatlinburg cabins with a view is guaranteed to be relaxing and enjoyable with these options.
2. Riverfront Scenery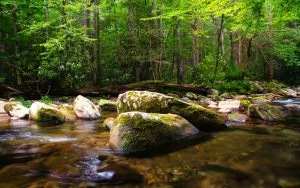 3. Wooded Seclusion
The seclusion offered in our cabins with wooded views is unmatched without compromising the beautiful sights of the Smokies. Guests will feel as though they have their own private mountain getaway, tucked away in the lush Smoky Mountain forest. With no city lights to distract from the beauty and no towering buildings blocking the scene, you can take in the wooded expanse around you without distraction, enabling complete relaxation. These Gatlinburg cabins with a view are especially great for couples looking for a secluded, romantic getaway or honeymoon.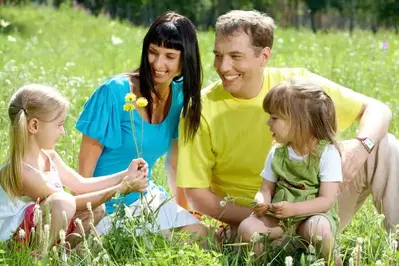 From the mountains and rivers to the woods, we know you'll love every sight our Gatlinburg cabins with views have to offer. While they may feel like a world away, our cabins are just a short drive from all of the attractions, shops, and restaurants in the heart of the city. Staying at a cabin truly provides the best of both worlds: total immersion in the area's natural beauty and proximity to all of the fun that has made Gatlinburg one of the nation's most visited vacation destinations.
With everything from 1 bedroom cabins for romantic retreats to 9 bedroom cabins for family reunions, we are guaranteed to have the perfect accommodations for your next getaway. To start planning your escape, browse all of our Gatlinburg cabin rentals!