5 Winter Activities in Gatlinburg TN that Your Family Will Love
January 20, 2017
There's almost nothing in the world that's more beautiful than soaring mountains covered in a blanket of white, glistening snow, and that's why winter is one of the best times to visit the Great Smoky Mountains. During your trip to the Smokies, you'll have a blast exploring the city of Gatlinburg TN and all it's family friendly attractions. Read our list of 5 winter activities in Gatlinburg TN that your family will love and start planning your vacation today!
Gatlinburg TN has dozens of unique specialty stores, souvenir shops and shopping malls, making it a shopper's paradise! Whether you're shopping for your kids, your friends or treating yourself to a new wardrobe, you're sure to find whatever you're looking for and so much more. Plus, exploring the shops and collecting souvenirs is a great way to avoid those chilly temperatures!
If you're looking for fun and unique gift ideas, we recommend checking out The Sock Shop , which is located in the Village Shops in Gatlinburg TN. With several options to choose from, including toe socks, cashmere socks, wool socks and lots of socks with silly and fun designs, you'll find something for everyone on your list! Plus, these will keep your feet nice and warm during the winter season!
2. Enjoy the Outdoors at Ober Gatlinburg
If you're looking for winter activities in Gatlinburg TN that involve skiing, snowboarding and snow tubing, you will have a blast at Ober Gatlinburg . Spending a day enjoying Ober is the best way to get the true mountain experience and see the snowy sights up close and personal. There are beginner courses for skiing and snowboarding, so don't worry if you're inexperienced, and there are lots of other great activities if snow sports aren't up your alley. Hop on the Aerial Tramway to enjoy the scenery, strap on some ice skates and take a few laps on the rink or take a thrilling ride down the Smokies on the Ski Mountain Coaster! At Ober Gatlinburg, the options for fun are endless!
Another great way to spend a couple days in the Smokies during winter is to kick back and relax in a Gatlinburg TN cabin. Our cabins are warm and cozy and equipped with everything you'll need for a fun and relaxing weekend retreat. Every room in your cabin will have big, picture windows to provide you with stunning mountain views without having to brave the cold weather. And if you do feel like enjoying the views from your cabin's private deck, put on a bathing suit and spend an hour or two taking in the sights while soaking in your secluded hot tub!
Our cabins also have game rooms and theater rooms to keep you and your family entertained all weekend long! Compete in pool and air hockey tournaments, brush up on your arcade game skills or spend the whole afternoon enjoying a non-stop movie marathon. Your family will beg you to come back to our fun cabins time and time again!
4. See a Show
One of the most popular winter activities in Gatlinburg TN is spending an evening at a music or comedy show because it is the best way to avoid the cold while also enjoying some great theater! There are lots of great shows to choose from, so you might want to plan on seeing a couple!
Popular with visitors for over 40 years now, Sweet Fanny Adams is one of Gatlinburg's highest rated theater shows! With music, comedy and a different twist at each show, you are in for a real treat!
5. Explore Indoor Attractions
If it's just too cold to spend much time outside during your weekend trip to Gatlinburg TN, there are plenty of popular indoor attractions to keep you entertained for days. From Ripley's Aquarium of the Smokies, where you'll get the chance to see over 10,000 sea creatures, to WonderWorks, the family friendly attraction with over 100 hands-on exhibits, you'll have plenty of options to please everyone in your group.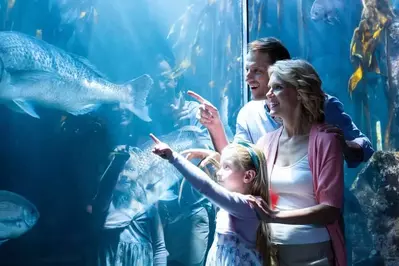 In order to help you stretch your vacation budget, we offer free Gatlinburg TN attraction tickets when you stay with us at our Gatlinburg TN cabins! There's so much fun to be had, and we want you to be able to experience it all!
Now that you know all the best winter activities in Gatlinburg TN to keep your family entertained during the cold months, it's time to book your stay at our Gatlinburg TN cabins. Winter is a popular time to vacation in the Smokies and our cabins are filling up fast, so don't hesitate to book your trip today!