5 Unexpected Places to Find a Roller Coaster in Gatlinburg and Pigeon Forge
July 21, 2014
Typically when you think about a trip to downtown Gatlinburg, you imagine a delicious meal at a quaint restaurant, an exciting time exploring the Ripley's Aquarium of the Smokies, touring the shops of the talented artisans at the Gatlinburg Arts & Crafts community, or, for the of-age visitors, sampling a flavor of two at one of the new moonshine distilleries in Gatlinburg. However, our beloved Smoky Mountain town is now home to a new kind of attraction that visitors may find unexpected.
We at Auntie Belham's Cabin Rentals have noticed a sudden influx of roller coasters in the area and we could not be more excited. Some of the roller coasters on our list are still under construction, but hopefully learning about them will help you and your family plan your next vacation to the Smoky Mountains.
Ober Gatlinburg Ski Resort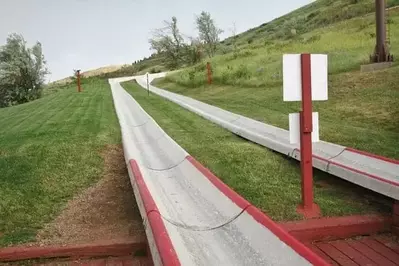 Typically known for it's challenging ski slopes and beautiful scenic views, Ober Gatlinburg recently announced that it will soon begin construction in its very own mountain coaster.
The new Gatlinburg roller coaster will begin next door to the tubing slopes, and it will take guests on an exhilarating 4,000 foot journey around the peak of Mount Harrison. Using a little bit of electricity and a lot of G-force power, this roller coaster in Gatlinburg will keep guests on the edge of their seats around the various turns, dips, twists, zigs and zags.
Construction on this coaster is set to begin at the end of July 2014, and staff at the Gatlinburg attraction hope to have it open before the 2014-2015 season.
If you want to check out the construction of the new roller coaster in Gatlinburg, the Tennessee ski resort is open year round. Even though there is no snow on the ground, there is still tons of fun things to do at Ober Gatlinburg, including their year-round ice skating rink, wildlife encounter, children's play area, mini putt putt course, and restaurant.
For more information on what is currently open at Ober Gatlinburg, please visit their website .
Smoky Mountain Alpine Coaster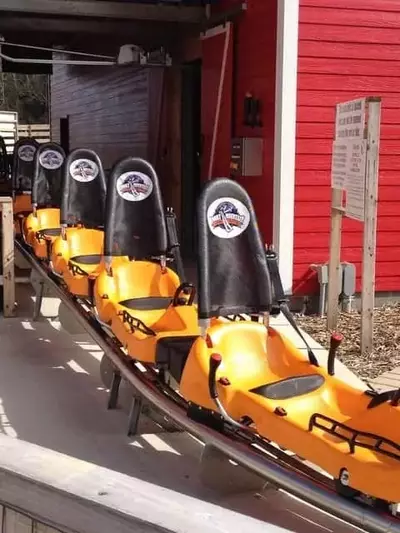 The original home for mountain coasters in the Smoky Mountains, the Smoky Mountain Alpine Coaster is located just a short drive off the Parkway on Wears Valley Road.
Not only was the Smoky Mountain Alpine Coaster the first of its kind to be found in the Smoky Mountains, it also offers one of the longest tracks. At just over one mile long, this exciting Pigeon Forge roller coaster is sure to help you and your family create a unique and memorable family experience.
The Smoky Mountain Alpine Coaster in Pigeon Forge is open 9 a.m.-9 p.m., daily. Ticket prices are:
$15 for adults
$12 for children ages 7-12
$5 for children ages 3-6
If you plan on riding the coaster more than once, or have multiple members of your party, combo tickets are available for $44 for 4 adult tickets and $32 for 4 children tickets (ages 7-12). The Smoky Mountain Alpine Coaster requests that parties with over 15 guests to please give them a call at (865) 365-5000, or visit their website .
The Smoky Mountain Alpine Coaster does have a height minimum of 56 inches for any single riders. For double cart rides, the height minimum is 38 inches as long as the person controlling the cart is at least 56 inches tall.
There is a weight limit for the carts at the Smoky Mountain Alpine Coaster. Each cart can accommodate up to 375 lbs. total in dry conditions and 330 lbs. in wet conditions. Yes, the Smoky Mountain Alpine Coaster is open rain or shine.
The average length of rides on the Smoky Mountain Alpine Coaster is roughly 7-8 minutes. For an example of what you and your family can expect from a trip to the Smoky Mountain Alpine Coaster, check out this video:
Dollywood's Splash Country
For the most part, when you hear the terms roller coaster and Dollywood used in the same sentence, you think about the Pigeon Forge amusement park. Though Dollywood's theme park is one of our favorite attractions in Pigeon Forge, for the purposes of this blog we want to draw attention to its neighboring park's roller coaster, RiverRush.
Located in the back corner of Dollywood's Splash Country , near the newer kids' play area, RiverRush was the first hydro-magnetic roller coaster in Tennessee, and the second in the country.
What makes this ride unique, is that it offers all the thrills expected of a roller coaster, but it also combines them everything there is to love about a water slide. As soon as you think the ride is over, RiverRush shakes things up with a new dip or turn to keep guests' excitement up until they are returned safely to the starting point.
Be sure to keep a smile on your face during the ride because there is a camera located near the first big turn that will take a picture of your group that you can later purchase as a souvenir on your way out of the park.
Dollywood's Splash Country is open daily now through August. After that, the park will be open on Saturdays and Sundays through September 1. Current hours of operation are 10 a.m.-7 p.m., but beginning August 4 the park will close at 6 p.m.
Ticket prices for Dollywood's Splash Country are:
$47 for guests ages 12-59
$42 for guests 4-11 and 60+
Goats on the Roof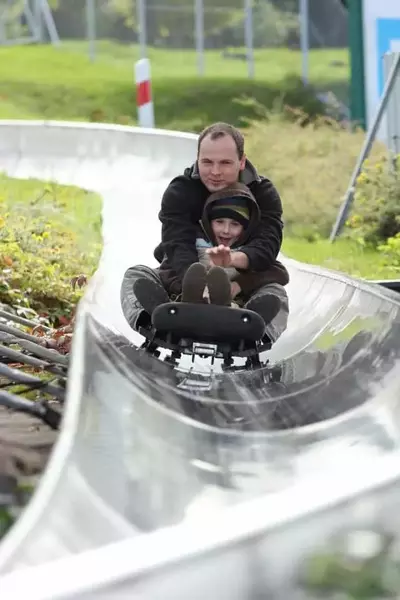 Located just down the road from the Smoky Mountain Alpine Coaster, Goats on the Roof is one of the most interesting attractions in the Smoky Mountains. A modern twist on the traditional petting zoo, this shop in Pigeon Forge allows guests to feed its goats by inviting them to sit on one of their 'goat-cycles' and peddling the food up to the animals. Visitors can also get a closer look at the goats by exploring the second floor of the gift shop and peering out through the windows. We must confess, you do not actually pet the goats at this Pigeon Forge attraction.
In addition to the goats, guests to Goats on the Roof are also invited to go on a gem mining exploration where they can dig for rubies, sapphires and emeralds at the shop's gem mining store.
However, the fun does not stop there for this Pigeon Forge shop. Recently Goats on the Roof has begin construction on their very own Goat Coaster. Located behind their store, the new coaster will definitely help cement Goats on the Roof as one of the most unique attractions in the Smoky Mountains.
When you are there, don't forget to pick up your new favorite Smoky Mountain vacation souvenir from the Goats on the Roof gift shop. Through their new coaster is not quite open, you can still purchase a Goat Coaster t-shirt to prepare for the new exciting ride. We have heard that the coaster is planned to open in September, just in time for guests to see the leaves' fall colors during their ride.
For more information on Goats on the Roof in Pigeon Forge, visit their website: www.goatsontheroofofthesmokies.com .
Gatlinburg Parkway, Traffic Light #2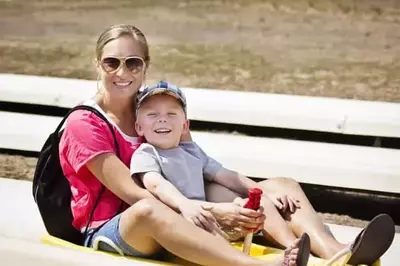 Similar to the Smoky Mountain Alpine Coaster, the White Lightin' Mountain Coaster will be a free-standing Gatlinburg roller coaster attraction located at 306 Parkway in Gatlinburg, near Traffic Light #2.
Still fairly new to the area, construction for the White Lighting Mountain Coaster in Gatlinburg begin in early March. Today, visitors driving past can see that the steel work for the track has been laid through the thick forest of trees surrounding the area.
Though we do not yet know when this roller coaster in Gatlinburg will open, we do know that thanks to the wooded area and location that this attraction will offer both beautiful mountain views and a memorable family-friendly experience.
While you are waiting to learn more about this roller coaster in Gatlinburg, be sure to pay its neighbor a visit, HillBilly Golf. A whimsical miniature golf course, HillBilly Golf offers two unique courses for guests to enjoy. Obstacles found on these courses include moonshine stills, outhouses, rocky walls and plants.
To get to the courses, guests will ride the Gatlinburg mini golf course's own variation of a 'roller coaster' 300 feet straight up to the mountain top.
For hours of operation and prices, please call HillBilly Golf in Gatlinburg at (865) 436-7470.
What are mountain coasters?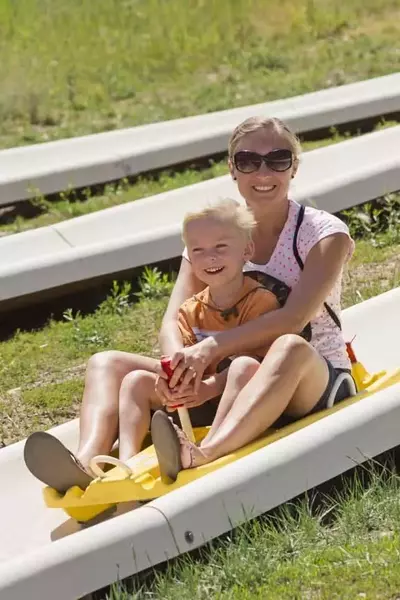 Mountain coasters are a special type of roller coaster. Unlike the versions typically found in theme parks, mountain coasters offer a more relaxing experience. Where many coasters can reach speeds up to 128 miles per hour, mountain coasters usually stick around 30 mph.
The carts on the mountain coasters can accommodate one or two guests per ride, and what makes them truly unique is that riders have a hand break they can use to control the speed of the ride. Also, these carts rely mainly on gravity and g-force to control the speed of the ride opposed to electricity and daring drops.
For driving directions to any of these thrilling Pigeon Forge and Gatlinburg attraction to experience their new roller coaster for yourself, please feel free to use our map below.
Need a place to stay after experiencing all the excitement of our area's newest roller coasters in Gatlinburg? Auntie Belham's Cabin Rentals has tons of spacious Smoky Mountains cabins that are just minutes away from all of these enticing attractions.
To find which of our relaxing rentals is right for you, please give us a call at 1-877-369-9694.