How Does Ober Mountain Make So Much Snow?
January 27, 2014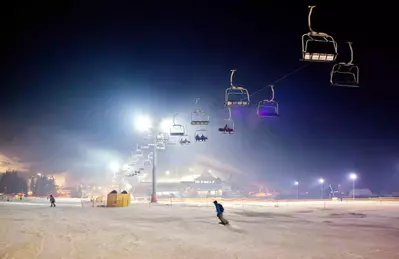 You probably love spending time skiing or snowboarding at Ober Mountain, but do you know anything about the snowmaking process?
(See Also: Winter Olympic Games to be Held in the Great Smoky Mountains)
How cold does it have to be for Ober Mountain to make snow?
Water freezes at 32 degrees, but most of the time, 32 degrees isn't cold enough for making substantial snow. For the most part, Ober Mountain waits until the temperatures drop below 28 degrees Fahrenheit before they start making any snow.
Who are the snowmakers?
During the winter, snowmakers spend a lot of their time waiting for a call that the weather is at the perfect temperature. Sometimes, they are called in the middle of the night, seven days per week. When it's necessary, the snowmaking staff will even work to make snow throughout skiing and snowboarding sessions.
Which slopes did Ober Mountain start making its snow on first?
Castle Run, Cub Way and Ski School
Mogul Ridge and Upper Bear Run
Lower Bear Run and Ober Chute
Alpine Way
Grizzly
Does humidity matter?
Humidity actually plays a crucial role in determining when Ober Mountain can begin making snow. When there is a higher level of humidity, it makes it more difficult to create snow. Sometimes, the humidity level can result in not being able to create snow. When there is humidity in the air, the moisture sometimes makes it impossible for molecules to turn into snow.
What should I wear skiing or snowboarding at Ober Mountain?
Of course, the best way to dress is in layers. Make sure to wear ski boots and snowboard boots. Wear anything to keep you warm, like hats, gloves and other items for outdoors. Remember that you'll have to keep track of your lift ticket, so you'll want to have a button hole, belt loop or zipper pull to help you fasten the ticket.
It's important to wear goggles to protect your eyes from the snow and sun. Believe it or not, the sun actually shines brightly on the slopes, and many visitors like to wear sunscreen and a scarf to protect their faces.
At Ober Mountain, you can rent ski clothing for the following prices:
Snow pants: $12, $30 deposit
Ski jacket: $12, $30 deposit
Helmets: $5, $20 deposit
The Ober Mountain Ski Resort is located at 1339 Ski Mountain Road in Gatlinburg. When you're looking for a great place to stay, only a few minutes from Ober Mountain, Auntie Belham's Cabin Rentals offers a variety of luxurious Gatlinburg cabin rentals. For the best deal on your cabin in the Smoky Mountains, take a look at our Gatlinburg Cabin Specials page on our website. Don't forget to give us a call at (800) 436-6618 to start planning your vacation to the mountains!