Top 4 Ways to Enjoy Fall Colors in the Smoky Mountains
September 16, 2022
When you come to the Smokies in the fall, you really want to take in the beauty of the area. You may not have all of the colors in the foliage like you can see here, so you'll want to enjoy it while you can! The fall colors in the Smoky Mountains are pretty popular, but do you know what you will do to get out and see them? Check out these top 4 ways to enjoy fall colors in the Smoky Mountains:
1. Take a Drive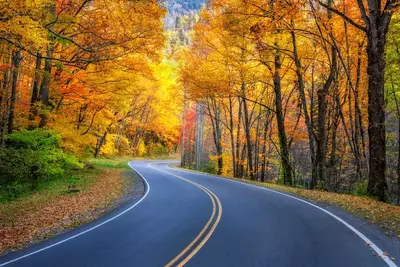 A really popular way to see the fall foliage in the area is to take a drive. This is especially popular since the weather has gotten cooler, and not everyone wants to be out in the chilly temperatures. You can take a short drive from Pigeon Forge to Gatlinburg on the Spur, or you can pack up your family and go on a longer drive, such as Newfound Gap, which travels from Gatlinburg, Tennessee to Cherokee, North Carolina. You have several places where you can stop, get out, and walk a little ways to see incredible mountain views on this road. If you want to drive through with trees overhead, Cades Cove or Little River Road are great options.
2. Go on a Hike
If you are someone who enjoys hiking, being out in nature, or just wants to explore the area a little bit, you should go on a hike so you can enjoy the fall colors in the Smoky Mountains. Hikes with higher elevations will definitely show you more of the fall foliage than hikes in lower elevations. But the closer you get to pique color season, the more you'll see in the lower elevations. Andrews Bald is a great hike if you want mountain views. Rainbow Falls is a great trail if you want to see the colors and a waterfall. There are several nature walks you can go on if you want to walk through the trees and enjoy the colors.
3. Have a Picnic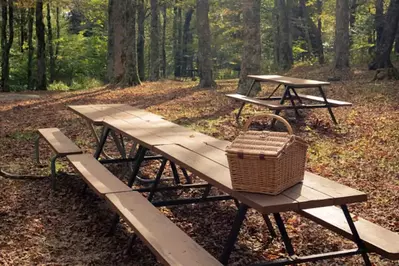 Even though the weather is getting a little colder, you can still get out and enjoy a picnic in the mountains! There are several picnic areas throughout the national park where you can enjoy the fall colors in the Smoky Mountains. One of the most popular is Cades Cove picnic area. You can enjoy a meal by the creek, then go on the Loop so you have two ways to enjoy the season. Metcalf Bottoms is another great place to go for a picnic. You can sit by the river and then go on a short hike afterwards.
4. Experience Attractions with Views
Another great way to enjoy the fall colors in the area is to go on attractions with mountain views. Gatlinburg has a ton of attractions like this, and there are a few in Pigeon Forge as well. The Gatlinburg Space Needle is the perfect place to go to really take in the fall colors and enjoy the mountain views. Anakeesta also has an observation tower, as well as several places where you can sit in a rocking chair and enjoy the views. If you happen to be in Pigeon Forge, a ride on The Great Smoky Mountain Wheel at The Island will definitely give you a great view of the mountains and fall foliage.
You have several options if you want to enjoy the fall colors in the Smoky Mountains. Wondering what else you could do when you book one of our cabins? Check out our Smoky Mountain Adventure Pass to see what kind of deals you'll get on local attractions when you book one of our cabins for your next trip!