How to Find the Perfect One Bedroom Cabin in Gatlinburg
August 25, 2014
It is hard to think of a Smoky Mountain vacation that wouldn't benefit of staying in a Pigeon Forge or Gatlinburg cabin rental. However, we will admit that some cabins are better for certain vacations.
To help narrow down your choices, we at Auntie Belham's Cabin Rentals have decided to reveal the top four reasons guests should stay inside one of our one bedroom cabins in Gatlinburg.
Perfect for Smoky Mountain Honeymoons
Thanks to the breathtaking views and scenic venues, it is no wonder that the Smoky Mountains are considered the Wedding Capital of the South. In addition, with all this natural beauty surrounding you, why wouldn't you and your new spouse want to begin the rest of your lives together in a secluded one bedroom cabin in Gatlinburg?
These rentals offer a quiet space to retreat to after all the excitement of your Smoky Mountain wedding has ended, and it would cut down on travel costs of having to drive someone else after your destination wedding.
Our favorite honeymoon cabins in Gatlinburg include:
Honeymooners, prepare to fall in love with this one bedroom and one bath cabin in Gatlinburg. Designed with couples in mind, this rental offers one large king-size bed, an in-cabin jacuzzi, secluded feel, fully-equipped kitchen, and more. There is also an outdoor hot tub, charcoal grill and wood fireplace found at this cabin.

Above the Clouds

Considered one of our larger one bedroom cabins in Gatlinburg that sleep 2 guests, Above the Clouds is a spacious two-level chalet that also has exclusive access to a resort-style tennis court, swimming pool and clubhouse. Inside the cabin, you and your loved one will love unwinding in the in-cabin jacuzzi tub or outside in the relaxing outdoor hot tub.

Afternoon Delight

Perfect for couples wanting to have all the benefits of a secluded feel while still being just minutes away from all of the thrilling attractions in Gatlinburg, Afternoon Delight is the perfect one bedroom cabin in Gatlinburg. Couples can relax in the hot tub, enjoy a game of pool, or just sit back and watch the sunrise over the mountains. This cabin is also pet friendly in case you can't find a dog sitter.
A Way to Save Money During A Vacation in the Smoky Mountains
It's simple math. The more people you have to divide the cost of a Gatlinburg cabin between, the less amount of money each guests will pay. For example, guests choosing to stay in one of our one bedroom Gatlinburg cabins that can sleep up to 6 guests have that added bonus of splitting the cost up to six ways.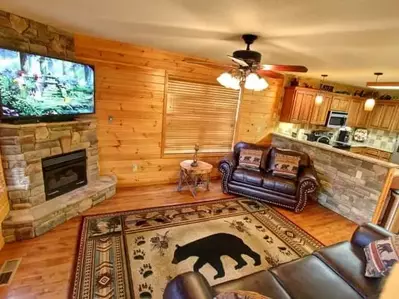 We know what you are thinking, six people in a one bedroom cabin sounds a little cramped. However, when we assign a sleep number to a cabin, we make sure that there is enough room for each guests to comfortably sleep inside the rental. That being said, even though there is only one bedroom, all members of your group are ensured a relaxing and comfortable nights sleep.
Our favorite one bedroom cabin in Gatlinburg that sleeps quite a few guests includes:
2nd To None
This large one bedroom cabin in Gatlinburg is great for a girls' weekend or bachelor party looking for a place to stay in the Smoky Mountains. Not only is this cabin just a short drive from Pigeon Forge, but it also has free high-speed internet, a home theater system and HD cable tv.
Good For Small Family Vacations
A small family vacation is always fun, especially when the kids are still little. Mom and dad can rest comfortably in the master suite of the one bedroom Gatlinburg cabin while the kids pretend they are camping out on the rental's sleeper sofa or futon couch in the living room. In addition, families will love to hear that at Auntie Belham's Cabin Rentals, we also offer free tickets to several popular Smoky Mountain attraction for each paid night of stay. Click here to learn more about our free Pigeon Forge and Gatlinburg attraction tickets.
Examples of our one bedroom cabins in Gatlinburg that are perfect for small family vacations include:
Timeless Treasure is a one bedroom cabin in Gatlinburg that can sleep up to three guests. Offering a large open-floor plan, this cabin is great for small families wanting to unwind and relax for a few days together in the Smoky Mountains.
Timeless Treasure also shares a courtyard with two other of our spacious one bedroom cabins in Gatlinburg, Storybook Romance and Bear Creek Haven. Because of this, it can also double as the perfect cabin for a couples' retreat to the Smoky Mountains.
Unforgettable
True to it's name, the Unforgettable one bedroom cabin in Gatlinburg is the perfect place for you and your family to create new long-lasting memories of the Smoky Mountains. This particular cabin is unique because it not only offers guests unbeatable views of the Smoky Mountains, but it also really close to several area attractions including Dollywood and Ripley's Aquarium of the Smokies. This cabin can sleep up to four guests.
Ready to begin planning your next trip to the Smoky Mountains inside one of Auntie Belham's versatile one bedroom cabins in Gatlinburg? Give us a call today at (877) 369-9694. One of our vacation specialists will be more than happy to walk you through the reservation process.