4 Tips For Helping You Find the Right Four Bedroom Cabin in Gatlinburg
February 4, 2015
To figure out which of our four bedroom cabins in Gatlinburg is right for your next trip to the Smokies, be sure to follow the simple tricks we have outlined below. You will be well on your way to enjoying a peaceful Smoky Mountain vacation in no time!
Figure Out How Many People You Want to Travel With
The first step in planning any vacation in the Smoky Mountains is to first decide who you want to travel with. Whether you are looking to enjoy a peaceful girls' weekend, spend time with your family out of town, work on company culture on a business retreat or any other type of vacation, you will be pleased to learn about how much room our four bedroom cabins in Gatlinburg offer.
Not only can these rentals sleep upwards of 14+ guests at a time, they have a ton of space where guests can stretch out and relax without feeling as if they are overcrowding one another. This means that, however many people you plan on traveling with, there will be plenty of room for all of you inside one cabin.
Plan What Amenities You May Want During Your Stay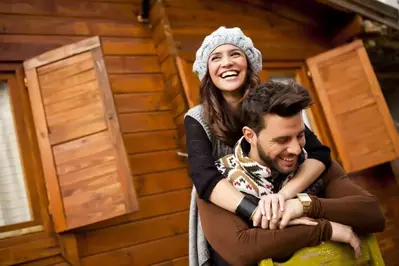 What is it that you look for in a cabin? Do you want a rental that offers a fully-equipped kitchen with outdoor seating so you and your family can enjoy a delicious meal while staring out at the mountains? Maybe you all appreciate a little friendly competition when you are on vacation and you want a Gatlinburg cabin with an arcade room or pool table. We also offer several cabins that have a home theater room or system with cable and WiFi so you can enjoy all of your favorite movies and tv shows in true Smoky Mountain luxury.
Whatever amenities you prefer in your home away from home, we are sure that we have the right cabin for you. You can narrow your search of our four bedroom cabins in Gatlinburg by sorting by your favorite amenities in our Gatlinburg cabin search.
Ask Yourself What Type of View You Prefer
Do you want to wake up every morning to a panoramic mountain view or do you prefer a secluded wooded scene? Different traveler has different preferences on which type of view they have during their stay.
At Auntie Belham's Cabin Rentals, we have several four bedroom cabins in Gatlinburg and Pigeon Forge that offer both types of views. If you are not sure what kind of your favorite cabin offers, feel free to give us a call or look through the cabin's photos on our website.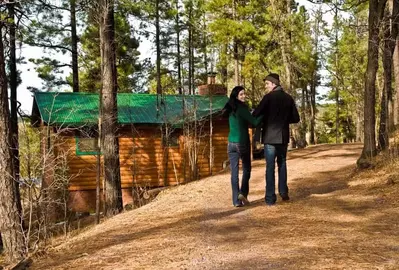 Research Which Attractions You Want to Visit
Is there an attraction in Gatlinburg or Pigeon Forge that you and your family or group love to visit when you vacation in the area? Maybe there is a new exciting adventure that recently opened that you want to check out.
Either way, it is important to do a little research on which attractions and things to do in Gatlinburg and Pigeon Forge that you all will want to experience during your stay before you get here. However, how does this tie into finding the right four bedroom cabin in Gatlinburg?
The answer is simple, if you love visiting attractions when you come to the Smoky Mountains, you will want to find a trustworthy cabin company that offers free tickets to the Gatlinburg and Pigeon Forge attractions that you love, like the Smoky Mountain Adventure Pass we offer!
With our adventure pass, guests will receive one free adult admission ticket to over 10 different attractions and shops for each paid day of their stay. With this pass, you and your family can have all the fun you want while still saving a ton of money!
If you would like even more helpful tips on how to find the right four bedroom cabin in Gatlinburg for your next trip to the Smokies, be sure to give our vacation experts a call today! With over 20 years of experience, they will be more than happy to help you and your family or group figure out which of our spacious rentals is right for you.