5 Fun & Free Things To Do In Gatlinburg TN With Kids
May 19, 2015
For help planning a fun and affordable trip for you and your family, check out our favorite fun and free things to do in Gatlinburg TN with kids. Not only will these help you enjoy a memorable vacation experience, it will also help make sure you don't break the bank!
Stroll Along River Road By The Little Pigeon River
If you are looking for a relaxing way to spend the day in downtown Gatlinburg, we suggest taking an easy stroll along River Road. This short side road allows you to enjoy a peaceful walk along the Little Pigeon River while also observing some of your favorite attractions and stores in downtown Gatlinburg.
You can even stop along the way and let your kids play in the river for a little while. They can skip rocks, splash on the river bank or simply sit down and enjoy a snack.
Be sure to keep an eye on your kids if you do let them play by the water. Sometimes the river's current can be a little fast, and we want to make sure that everyone has a fun and safe vacation experience.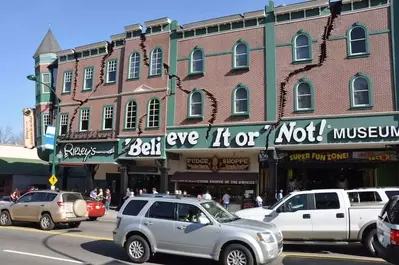 When you are done enjoying the peacefulness of River Road, feel free to walk up the Parkway and continue walking along the many storefronts found there.
Explore the Parkway
Speaking of the Gatlinburg Parkway, there are over 100 different storefronts that line the street of the Gatlinburg Parkway. These stores offer everything from souvenirs to fine art to home decor and everything in between. That is why we always suggest that families and guests make time to explore the Parkway when they are in the area.
The best part is that you can spend a few hours exploring all of these quaint shops without ever having to spend a dime!
If you and your kids do find yourselves feeling a little adventurous, you can always pop into one of the attractions or amusements found along the Parkway to continue your fun. Here, there are putt putt courses, the aquarium, the Guinness Book of World Records Museum, Ripley's Believe It Or Not Odditorium, the Gatlinburg Space Needle, a go-kart track, and a ton of other fun and free things to do in Gatlinburg TN with kids.
Drive The Roaring Fork Motor Nature Trail
If you want to explore the beauty of Gatlinburg but don't want to walk, you can always drive around one of the many scenic auto tour trails in the area. We like the because it features a ton of scenic beauty and historical buildings along its route. A few of our favorite stops along this 5.5 mile-long loop road include the famous Noah "Bud" Ogle cabin, a historic grist mill, a lively mountain stream, and much more!
There are also a few trailheads found along the Roaring Fork Motor Nature Trail, just in case you and your kids do decide to get out and stretch your legs a bit.
Tour Arrowmont School Of Arts & Crafts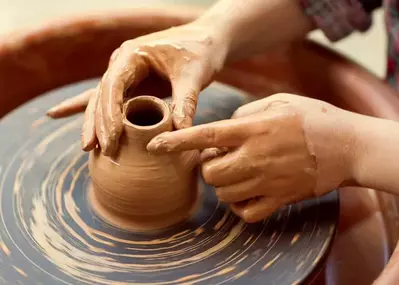 For over 100 years, the Arrowmont School of Arts & Crafts has been a safe haven for education and cultural preservation. In its early years, Arrowmont was a school where children of the early settlers could go to learn and expand their knowledge outside of their community. However, it wasn't too long after opening its doors that the school introduced handiworks and crafts into its curriculum.
Today, the school is internationally known for the talented artists and craftsmen who have studied there.
Touring Arrowmont perfect for parents with children who have a creative mind and are interested in seeing their imagination come to life in the form of art. Not only can you tour the gallery and the grounds of the school for free, you can even sign up for classes and workshops to help refine your own skills. There is a small fee for the educational classes, but it would be well worth it to return home with your own handcrafted souvenir.
Click Here to learn more about the Arrowmont School of Arts & Crafts.
Study History At The Sugarlands Visitor Center
Just 12 minutes from the heart of downtown Gatlinburg, the Sugarlands Visitor Center is considered to be the primary spot for visitors wanting to learn more about the Great Smoky Mountains. Here, you can find a variety of natural history exhibits, including a 20-minute film amount the national park.
If you want to learn even more about the park, you can also sign up for one of the many ranger-led programs hosted by the visitor center and the National Park Service. These tours are completely free and are a great way to get your kids interested in exploring the beauty of the Smokies.
Click here to learn more about Sugarlands Visitor Center and the ranger-led programs.
For more ideas on fun and free things to do in Gatlinburg TN with kids, be sure to check out our Smoky Mountain Adventure Pass. Included with every reservation, our adventure pass offers free tickets to several popular area attractions for each paid night of your stay!