Top 4 Places to Get Ice Cream in Pigeon Forge
October 15, 2020
Want to know where you should go when you want something sweet? You'll find a ton of places that serve ice cream, but we know you want the best of the best. At these shops, you'll find classic flavors, a variety of toppings, and maybe something new you'll want to try! Here are the top 4 places to get ice cream in Pigeon Forge:
1. Curl De La Creme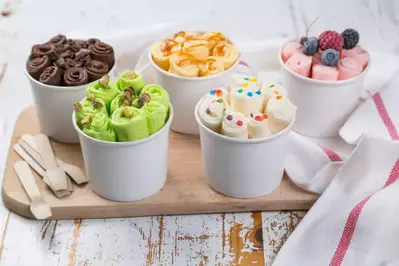 Curl De La Creme is another place where you can get ice cream in Pigeon Forge. Unlike traditional ice cream shops, this shop makes the ice cream right before your eyes. You'll choose one of the three ice cream base flavors, then you'll pick out cookies, candies, fruit, or nuts to go in your ice cream. The liquid is spread onto a freezing surface in a thin layer. Once it freezes, the employee will roll it into ribbons of ice cream.
2. Old Mill Creamery
A great place to go if you want some ice cream is the Old Mill Creamery . It's in the heart of the Old Mill Square. They have a classic ice cream shop look with the freezers full of ice cream tubs so you can see what flavors they have. They have all the classics, including vanilla, chocolate, strawberry, and cookie dough. There are several signature flavors you might want to try as well. They have oat mill cream pie, swingin' sweet tea, whiskey ribbon, and salted caramel. Many of these flavors use candies from the Candy Kitchen and the Old Forge Distillery that are also in the Old Mill Square. You can get your ice cream in a cup or in a cone or made into a milkshake or float.
3. Mad Dog's Creamery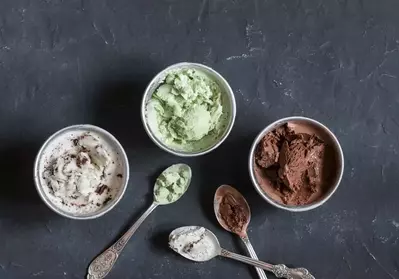 Mad Dog's Creamery is a pretty popular place to go for ice cream in Pigeon Forge. It's one of the businesses you can take your furry best friend to where they can also get a treat! Mad Dog's has traditional flavors such as vanilla, cookies and cream, and butter pecan. If you're feeling adventurous and want to try some of their signature flavors, you can get caramel pie, yellow brick road, blueberry pie, or strawberry cheesecake. You also can choose how you want to eat your ice cream, and that includes in a cup, cone, sundae, or banana split. Not only does Mad Dog's have ice cream, they also have donuts in a variety of flavors!
4. Buzzed Bull Creamery
Buzzed Bull Creamery is a unique ice cream shop. Instead of scooping ice cream out of the freezer, you'll be able to watch liquid cream turn into ice cream through the use of liquid nitrogen. This isn't the only unique thing about Buzzed Bull: you can also add liquor to your ice cream! You start out by picking what flavor you want, and some of those include vanilla, chocolate, mint, honey, or strawberry. Then you choose toppings, such as candy or nuts, and pick what kind of alcohol you want. If you don't want to create your own, Buzzed Bull has a specialty menu. Some of the flavors on this menu include honey bourbon pecan, hard apple pie, and cherry cordial. Once you choose what you want, the liquid cream is frozen instantly with liquid nitrogen right before your eyes!
These places to get ice cream in Pigeon Forge are the perfect places to get something sweet. Wondering what else you should check out when you stay with us? Look at our Adventure Pass you'll receive when you stay with us for discounts to attractions and restaurants.