3 Things Families Love About Our Smoky Mountain Cabins
May 11, 2023
The Smoky Mountain area is a great place to take a family vacation because there is a lot to see and do! We would love to provide you with a cozy place to call home while you are in town. Explore this list of 3 things families love about our Smoky Mountain cabins:
1. Spacious Floor Plans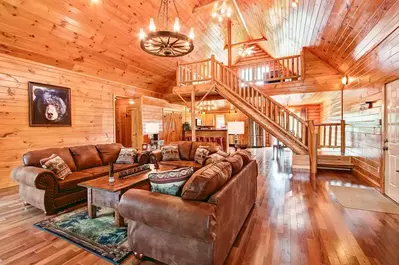 One of the things that families love about our Smoky Mountain cabins is their spacious floor plans. Everyone can gather together while having plenty of space to relax. Parents can spend some alone time in the master suite, and the kids can play fun games in the entertainment area. They will especially enjoy staying in a cabin with a bunk bed. Later, all family members can sit down for a nice meal in the kitchen or go out on the porch to enjoy the beautiful views. Another great aspect of our cabins is that they can have more than one bathroom. It helps take some of the stress out of getting ready for the day and winding down for the night. The faster you can do both, the more time you can spend having fun on vacation.
2. Great Amenities
We know the cost of entertainment on vacation can add up fast. We provide guests with great amenities so that they can have fun without ever leaving the cabin. Enjoy the outdoors in style when you relax in the hot tub. If you prefer cooler waters, other cabins have private pools or pool access. When you return to the cabin for the day, you can have an awesome "family movie night" in a cabin with a theater room. This amenity is also great for passing time on rainy days. Whatever the occasion, the big screen makes it easy to see and hear all the action. In addition to all the luxury amenities, we want to make sure you have all the comforts of home, one of which is your pets. Our fur babies are a big part of our lives and we miss them on vacation. That's why you'll be happy to know that we offer pet-friendly cabin options! Your family will have a great time making memories with Fido in the Smokies!
3. Close to Attractions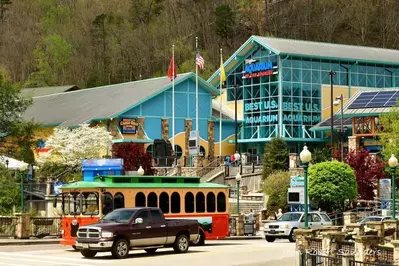 Even though our Smoky Mountain cabins are located in secluded areas, they are close to all the fun attractions in both Pigeon Forge and Gatlinburg. When choosing the right place to stay, it is important to decide which activities you want to do the most. There are fun activities in both cities, so there is no wrong choice. In Pigeon Forge, you can go ride the fun roller coasters in Dollywood or watch an entertaining dinner show. On the other hand, Gatlinburg is home to Ripley's Aquarium of the Smokies where you can learn more about marine life. You can also see spectacular views from the top of the Space Needle or the SkyBridge! If you're looking for more ways to save money during your vacation, you can get free tickets to attractions when you use our Adventure Pass!
Now that you know why your family will love staying with us, it's time to start planning your trip! Explore all of our Smoky Mountain cabins to find the right one for your vacation!