Best 4 Dinner Shows in Pigeon Forge You Have to Try
March 31, 2022
Add some excitement to your meal and make it a dinner show kind of night! The jaw-dropping stunts, musical numbers, and comical performances are sure to thrill and amaze people of all ages! Not to mention the mouthwatering meals that come with the entertainment are full of classic favorites. To help you plan for your trip, here are 4 of the best dinner shows in Pigeon Forge.
1. Dolly Parton's Stampede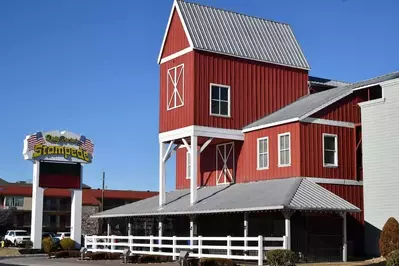 The fun starts before the show at Dolly Parton's Stampede ! Come early to enjoy a stroll along their open-air stables and to meet the stars of the show up close at the Horse Walk. Afterward, You'll be seated in the 35,000 square foot main arena, and treated to a 4-course feast, including delicious options like rotisserie chicken, homemade biscuits, the Stampede's famous creamy vegetable soup, and more! There are also scrumptious vegetarian and gluten-free dinners complete with all the trimmings.
2. Hatfield and McCoy Dinner Show
Help these two feuding families to settle their differences mountain-style at the Hatfield and McCoy Dinner Show ! Experience mighty feats of strength, and jaw-dropping stunts over a full Southern homestyle feast! This show features everything from singing and dancing to diving dogs and hillbillies. Dinner includes favorites like fried chicken, mashed potatoes, and corn on the cob with a tasty dessert to top it all off. Just be sure to come hungry because it's all you can eat!
3. Pirates Voyage Dinner & Show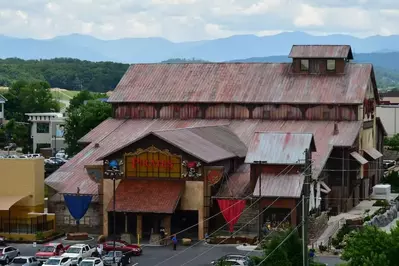 For a one-of-a-kind show in the Smoky Mountains, head to Pirates Voyage Dinner Show ! This dinner attraction combines an action-packed pirate adventure with a four-course pirate feast. Watch as Blackbeard and his quartermaster, Calico Jack, lead the Crimson and Sapphire crews in an epic pirate battle to find the hidden treasure. The pirates battle on land, on deck, in the water, and high above the full-sized pirate ships in the lagoon. The show also features tropical birds, mermaids, sea lions, and more. While you watch, enjoy Buccaneer Bread, Voyager Creamy Vegetable Soup, Cracklin' Pan-Fried Chicken, Sugar-Cured Ham, and more. This is an experience you don't want to miss!
4. Great Smoky Mountain Murder Mystery
You'll be in the midst of spies, frauds, and fools when you see Moonshine Murders at the Great Smoky Mountain Murder Mystery ! As the night unfolds, you can see for yourself whether The Lukes family can avoid jail time after wheeling and dealing their family shine recipe! Enjoy all the mystery and fun over a delicious dinner, complete with your choice of soup, main course, and a dessert.
Wondering what other shows you should see? Here are the best shows in Pigeon Forge you should watch!
Be sure to check out our free tickets to select dinner shows in Pigeon Forge and other Smoky Mountain attractions so that you can save while you're having fun!