4 Shows You Need to See this Christmas in Pigeon Forge TN
November 11, 2022
If you're looking for a new and exciting way to celebrate the holiday season with your family this year, we recommend heading to the mountains for some world class theater productions! From exciting feats that will keep you on the edge of your seat to hilarious dinner shows, there are tons of entertaining shows to choose from that will make your Christmas in Pigeon Forge TN an entertaining one that the whole family will love! Don't miss these 4 shows you need to see this holiday season:
1. Comedy Barn Christmas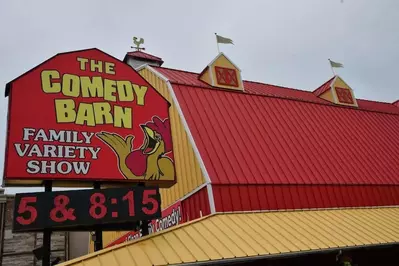 Your Christmas in Pigeon Forge TN will be even more special when you treat yourself to an evening enjoying Comedy Barn Christmas. This is a side-splitting holiday extravaganza that is fun for the whole family! Enjoy hearing some of your favorite themed tunes from the incredibly talented singers and musicians throughout the night! There are even comedians to provide some family friendly laughs and a few live animals to top it all off! We are sure that your family will be begging to come back to this spectacular event year after year!
2. Dolly Parton's Stampede Christmas
Another fun way to celebrate your Christmas in Pigeon Forge TN is by taking the family to the Christmas show at Dixie Stampede . In this fun Christmas twist to the classic Dolly Parton's Stampede show, elves from the North Pole battle elves from the South Pole for the winning title! The entire arena is filled with beautiful poinsettias, twinkling lights, old fashioned costumes and classic Christmas tunes, and you'll be amazed to see that there is snow falling from the sky! Don't forget your appetite because this 4-course feast will have you singing "Hallelujah"!
3.Christmas at Lumberjack Fued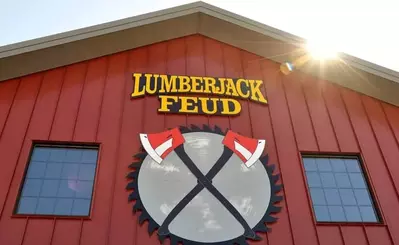 Christmas at Lumberjack Feud is another entertaining holiday experience that your whole family will enjoy. You'll fall in love with the Dawsons and the McGraws, the two lumberjack families who run the show. Watch as these dedicated athletes perform their hearts out in heart-stopping events, like the Boom Run and Speed Climbing. Plus, you'll enjoy the stage as its decorated for the holidays. If you have time, you can stop by when Santa Claus himself will be at Lumberjack Feud to take a photo!
4. Hatfield & McCoy Christmas Disaster
For a hilarious and chaotic evening of holiday entertainment, you'll definitely want to check out the Hatfield & McCoy Christmas Disaster Dinner Show ! Watch Ma McCoy and Pa Hatfield bicker and feud but eventually find a way to set their differences aside in order to enjoy a dysfunctional but somehow delightful holiday meal together! You'll enjoy southern classics such as fried chicken, pulled pork BBQ, buttery corn on the cob, mashed taters, coleslaw and of course a decadent dessert!
No matter which shows you choose to enjoy this Christmas in Pigeon Forge TN, one thing is certain: you'll need a great place to stay during your trip! Our Pigeon Forge TN cabins are convenient, comfortable and affordable. Book your stay today and start planning the ultimate Christmas in Pigeon Forge TN!