4 Ways to Make the Most of Your Stay at Our Gatlinburg Vacation Rentals
July 15, 2022
Here at Auntie Belham's Cabin Rentals, we want our guests to have the best vacation possible! To help you make the most of your getaway in the Smokies, we have put together a few tips for everyone staying at our Gatlinburg vacation rentals.
1. If You're Taking a Summer Escape, Choose a Cabin with Pool Access
If you will be visiting Gatlinburg with your family during the summer months, consider renting one of our cabins with pool access. Having the option to go swimming whenever you want is a major perk, especially during those sweltering afternoons in East Tennessee. Kids absolutely love to go swimming, and parents will love having an activity that will keep their little ones occupied for hours. Follow the link to see a complete listing of our Gatlinburg cabin rentals with pool access.
2. Unplug and Enjoy Nature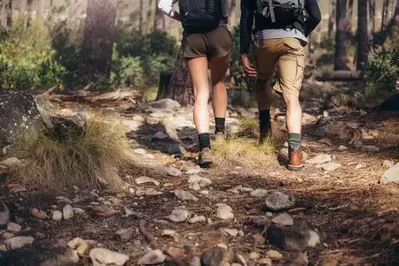 Of course, you will want to take your smartphone on vacation so you can stay in touch with folks at home and quickly look up the information you need. However, try not to stay glued to your devices during your getaway at our Gatlinburg vacation rentals. When you're constantly checking text messages, social media, and email, you might miss out on some of the region's natural beauty. Gatlinburg is one of the most scenic locations in the United States, and it definitely deserves your full attention! Here are a few of our favorite ways to enjoy nature in the Gatlinburg area:
Relaxing in a rocking chair on your cabin's deck or soaking in the hot tub
Hiking in the Great Smoky Mountains National Park
Taking a scenic drive along the Cades Cove Loop Road, Newfound Gap Road, or Upper Tremont Road
Horseback riding
Ziplining
3. Have Backup Plans in Case of Bad Weather
In an ideal world, the sun will be shining throughout your vacation and you will be able to spend as much time in nature as possible. Unfortunately, sometimes the weather doesn't cooperate with your outdoor plans. Just in case you get a few rainy days during your getaway, make sure you have some backup activities in mind. The Gatlinburg area is home to a number of excellent indoor attractions that you can visit if the weather is poor, including:
Ripley's Aquarium of the Smokies
Sugarlands Visitor Center
Salt and Pepper Shaker Museum
Circus Golf (blacklight mini golf)
Ripley's Believe It or Not! Odditorium
Gatlinburg's Mysterious Mansion
Of course, your cabin is also a great place to enjoy a rainy day. All of our properties come with fully furnished kitchens, so you can spend an afternoon baking some sweet treats with the kids. Many of our cabins also come with awesome theater rooms and game rooms, so it's not hard to have fun without leaving the comfort of your home away from home.
4. Try Something New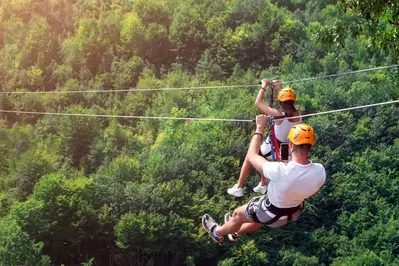 Vacations are all about breaking up the monotony of everyday life. Take the opportunity to try a new activity, a new food, or another type of experience. Go white water rafting on the Pigeon River, sample some moonshine, ride an alpine coaster, or simply check out a section of the national park you haven't seen before. Whatever you decide to do, you will find that trying something new will make your getaway more memorable and exciting.
To start planning your next escape, browse our collection of Gatlinburg vacation rentals!