4 Ways to Make Sure Your Kids are Never Bored at Our Cabins in Pigeon Forge and Gatlinburg
August 3, 2016
The three most dreaded phrases a child can utter on a Smoky Mountain vacation are:
But I don't like pancakes!
Wait, I was supposed to put that suitcase in the trunk?
I'm bored.
While we can't help you with the first two problems, there is no reason for your kids to be bored in the Smokies! When you stay at our cabins in Pigeon Forge and Gatlinburg, it's easy to make sure that your kids always have something fun to do. Auntie Belham's Cabin Rentals has put together four tips for banishing boredom during your getaway.
1. Stay at a Cabin Close to the Pigeon Forge Parkway or The Gatlinburg Strip
If you've been to the Smokies before, you know that the Parkway is the place to be! Running through Pigeon Forge all the way to Gatlinburg (where it is known as The Strip) this main road is home to the area's best attractions, shops, and restaurants. When you stay at one of our Pigeon Forge cabins near the Parkway or our cabins near downtown Gatlinburg, you will be minutes away from everything your kids want to do. Cutting down on time spent in the car is sure to keep your children happy!
When they're not out and about in town, some kids can get a little rambunctious if there are no activities planned. Heading to the swimming pool is a great way for your kids to burn off their excess energy! Many of our cabins in Pigeon Forge and Gatlinburg come with swimming pool access, so your little ones can spend part of the afternoon splashing around and having fun. Whether they race each other, play Marco Polo, or swim laps, your kids will love cooling off in the water on a hot summer's day.
3. Give Kids Free Reign in the Game Room
If you rent one of our cabins with a game room, your kids will have their very own area of the cabin to enjoy. Offering a variety of fun activities, such as billiards, air hockey, ping pong, electronic dart boards, and video games, our game rooms are the perfect place for your little ones to play. Of course, parents can always get in on the fun with a family pool tournament or air hockey competition!
4. Have a Movie Night at Your Cabin
A family movie night is a wonderful way to keep your children occupied before bed. When you stay at one of our Pigeon Forge or Gatlinburg cabins with home theaters, you can watch a film in style, with a big screen, surround sound, and comfy seats. Swing by a local Redbox to pick up the latest releases, or bring your DVD collection from home if you want to watch an old classic.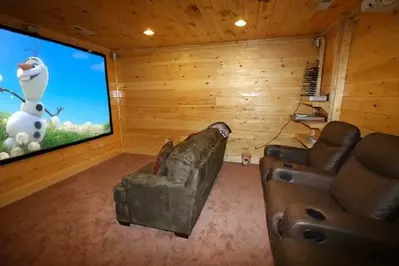 To start planning your next getaway, check out our complete selection of cabins in Pigeon Forge and Gatlinburg. If you have any questions about our properties, or you would like a cabin recommendation, don't hesitate to give our friendly vacation specialists a call today!