Ways to Spend Time at 2 Bedroom Cabins for Rent in Gatlinburg TN
August 26, 2016
The Great Smoky Mountains are a popular vacation destination for all kinds of people around the country and even the world. Whether you love to shop and eat at new restaurants, hike the trails, visit museums and aquariums or maybe a combo of all these things, the fun you can have in the Smokies is endless. No matter what type of vacation you decide on, we know our cabins are the ideal place to stay. To help you choose the perfect trip for you and your family, we've put together a list of our 3 favorite ways to enjoy our 2 bedroom cabins for rent in Gatlinburg TN!
1. Exploring the City
One of the ways to have a blast on your trip to our 2 bedroom cabins for rent in Gatlinburg TN is to explore all the cool and exciting aspects of downtown Gatlinburg! This city, which is tucked in the mountains and surrounded by beautiful scenery, has something for everyone.
For the people who love to learn and do new things while on vacation, we recommend checking out Ripley's Aquarium of the Smokies. With over 10,000 exotic sea creatures, Ripley's is easily America's most interesting and most fun aquarium! We also think you'll love WonderWorks, an interactive museum with over 100 exhibits that the whole family will enjoy.
For those of you who love the theater, Gatlinburg TN has plenty of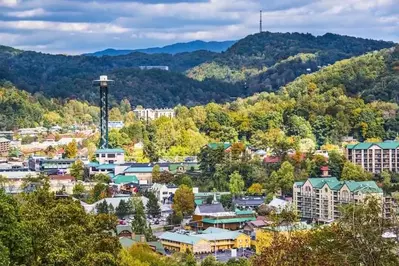 options for you, too! The Smoky Mountain Opry is the area's largest musical variety show, featuring everything from popular country to swing and jazz! And you'll laugh all night at the Comedy Barn Theater, the hilarious and clean comedy show that features juggling, a few animals and a little bit of music.
We are excited for you to get to experience all these attractions and more, so we've got a variety of free attraction tickets to help you squeeze more fun into your budget!
2. Weekend of Relaxation
Another wonderful way to enjoy our 2 bedroom cabins for rent in Gatlinburg TN is by spending the whole weekend relaxing in the comfort of your cabin. Instead of waking up to an obnoxious alarm clock, wake up to the sun rising slowly over the mountains. Make a pot of coffee and enjoy the sunrise and beautiful views from the privacy of your deck. You will love spending the day enjoying your cabin's game room, theater room, large kitchen and bubbling hot tub! Vacations are meant to be a way to destress, and there's no better way to do that than by soaking in the beauty of the mountains.
Lazy Daze is one of our favorite 2 bedroom cabins. Your kids will love the loaded game room and multiple TVs, and you will feel right at home in the rocking chair on your deck, overlooking the mountains. The fully equipped kitchen is perfect for preparing your family's favorite meals, and wood fireplace will make every evening cozy.
3. Enjoy the Outdoors
The main reason why people come from all over the globe to vacation in the Smokies is to experience true mountain life. The views are world class, and the hiking is unlike anywhere else in the world. There's nothing quite like getting an up close look at animals living in their natural habitat, and the thrill of riding the rapids on a white water rafting tour is fun for people of all ages! Whether you sign up for a zipline adventure to see the world from above or decide to spend your days walking the trails to see it head on, you'll love spending time exploring the great outdoors!