5 Cheap Things To Do In Gatlinburg With Kids
March 28, 2022
For parents, there is nothing quite as exciting as sharing all of your favorite Smoky Mountain memories with your children. This includes taking them on your favorite hiking trails, eating at your favorite restaurants, and visiting your favorite attractions. However, the price, of traveling with kids to the Smokies, can quickly add up, especially for parents with older kids. That is why we have put together a brief list of all of our favorite cheap things to help parents plan their next trip to the area. Read below for all of our favorite cheap things to do in Gatlinburg with kids:
Go Hiking in the Great Smoky Mountains National Park
At Auntie Belham's, we are very fortunate to have such a beautiful and popular national park directly in our backyard. Here, families and guests can find over 800 square miles of hiking trails that are just waiting to be explored.
The reason the Great Smoky Mountains National Park made the top of our list of favorite cheap things to do in Gatlinburg with kids is that it is one of the few national parks in the country that doesn't charge an entrance fee. That's right, families can enjoy access to all the many hiking trails and streams found in the Smokies for absolutely no cost.
(See Related: Things to Consider When Hiking in the Smokies With Childremoky Mountain Hiking Trails)
Visit Cades Cove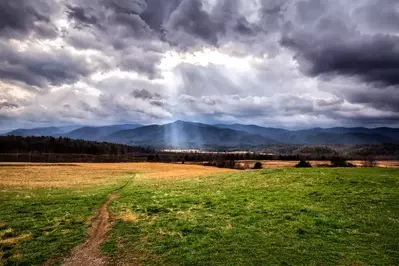 Outside of the historic buildings, guests will enjoy touring the area on the 11-mile loop road. They can either drive, walk or bike the path. On Sundays and Wednesdays, the road is closed from car traffic until 10 a.m. between early May and late September.
For parents looking for fun and cheap things to do in Gatlinburg with kids, visiting Cades Cove is particularly exciting because this area is also where you have the best chance of seeing some of the area's native wildlife. That being said, you will want to remember to bring a camera when you visit to capture the memory!
Click here to learn more about Cades Cove in the Great Smoky Mountains National Park.
Have a Picnic at Mynatt Park in Gatlinburg
If you don't feel like traveling to the Great Smoky Mountains National Park, but you still want to enjoy a peaceful day outside, why not consider planning a picnic with your family at Mynatt Park? You can either enjoy your meal at one of the park's picnic tables or you can bring a blanket and stretch out in the grass.
In addition to planning a picnic, you and your family can also play in the stream, explore the playground, play basketball, or try your hand at tennis on one of the courts.
The best part is that all of these activities are completely FREE!
Look For a Pigeon Forge Dinner Show That Offers Free Admission For Kids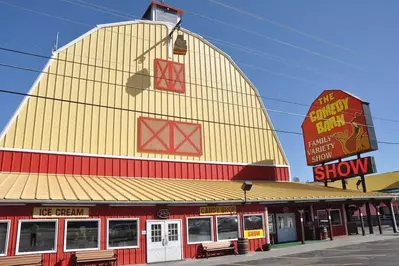 Just because you are looking for cheap things to do in Gatlinburg with kids doesn't mean you have to skip out on enjoying an exciting dinner show during your vacation. Many of the shows in Gatlinburg and Pigeon Forge offer free admission for kids with the purchase of an adult ticket.
A few of our favorite dinner shows with free admission for kids include:
Comedy Barn (11 and under)
Dixie Stampede (child must sit on parent's lap and eat off parent's plate)
Country Tonite (12 and under)
Gatlinburg Space Needle (4 and under)
Relax Inside Your Pigeon Forge or Gatlinburg Cabin Rental
Lastly, one of the best activities for parents to enjoy with their kids while trying to stay on budget is to simply relax inside their affordable Pigeon Forge or Gatlinburg cabin rental. At Auntie Belham's Cabin Rentals, we are very proud to offer families and guests a variety of spacious cabins that offer a ton of exciting amenities so they don't have to leave.
The added luxuries found in most of our cabins include:
Outdoor hot tubs
Game rooms with pool tables
Swimming pool access
Fireplaces
Fully-equipped kitchens
Home theater systems
Scenic views of the Great Smoky Mountains
Relaxing private decks
and more!
To learn more about the amenities included with our Pigeon Forge or Gatlinburg cabin rentals, or to learn more about our favorite cheap things to do in Gatlinburg with kids, feel free to give our vacation experts a call today. With over 20 years of experience in the Smoky Mountain vacation industry, our friendly staff will be more than happy to help you and your family plan the most memorable trip possible!