4 Helpful Tips For Your Day at Dollywood's Splash Country
June 7, 2019
One of the best things about a summer visit to the Smoky Mountains is the opportunity to visit Dollywood's Splash Country ! This action-packed water park features waterslides, water play areas, and pools for all ages, and it is just minutes away from our cabins! Since Dollywood's Splash Country is such a popular summer destination, here are 4 helpful tips to make the most out of your day:
1. Ride the Major Waterslides Early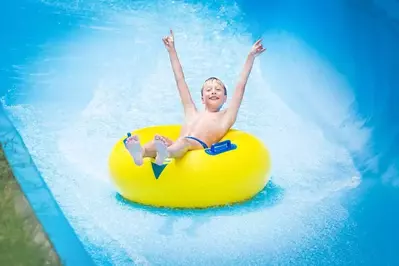 A helpful tip for visiting the waterpark is to ride the major waterslides early! Since these are the attractions that normally draw the most crowds, head directly to slides such as the Big Bear Plunge, Fire Tower Falls, Mountain Twist, RiverRush, and SwiftWater Run as soon as you get to the park. During the afternoon when the waterslide lines are long, you can take advantage of the wave pool, lazy river, and other fun attractions where you don't have to wait in line. Study the park map , so you can plan your strategy in advance!
2. Visit on a Cloudy Day
There's no better time to visit Dollywood's Splash Country than on an overcast day! Since most guests prefer a sunny and hot day at the water park, you will generally find fewer crowds on cloudy days. If you happen to experience any rain or drizzle while at the park, this is a great time to take advantage of short lines! Of course, all water attractions will close in the case of inclement weather such as thunderstorms. The good news is you can request a Rain Check at any ticket window if your stay is shortened due to any inclement weather, which is good until the end of the season!
3. Bring a Beach Towel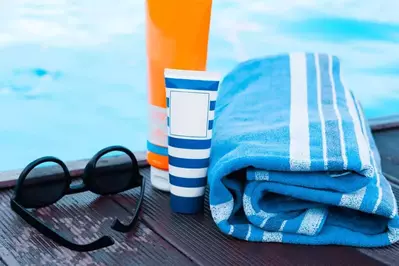 One of the top tips for visiting Dollywood's Splash Country is to bring a beach towel with you! This will come in handy when you want to dry off after spending some time in the wave pool or while relaxing on a lounger next to the lagoon pool. Although beach towels are not provided in the park, you can purchase them in the gift shops if you happened to leave your towel at home. When you get back to your cabin, you can easily wash your towel and your swimsuit in the included washer and dryer.
4. Purchase the TimeSaver H20 Pass
If you want to make the most efficient use of your time at Dollywood's Splash Country, purchase the TimeSaver H2O Pass ! This line reservation system allows you to reserve a position in line for many of the park's most popular attractions without having to stand in line, allowing you to enjoy other attractions, shops, and snack shacks until it is time for your ride! There are several TimeSaver H20 options available, from the Regular option, where you wait the full wait time in a virtual queue, to the Gold and Premium options, which reduce the wait to 50 percent of the actual wait time!
Visiting Dollywood's Splash Country is the perfect summer activities, and we hope our tips help you when you go! Check out all of our cabins in the Smoky Mountains today to plan your summer vacation!