5 Reasons to Stay in a Pigeon Forge Cabin Instead of a Hotel
April 13, 2018
When you're planning a vacation to the Pigeon Forge area, you might be weighing the different options for somewhere to stay — from a cabin, to a condo, to a hotel. Pigeon Forge cabins are by far the best place to stay when you visit the area. Here are 5 reasons to stay in a Pigeon Forge cabin instead of a hotel:
1. The Privacy Factor
If you don't want to chance having a loud and unruly neighbor banging on the floors and walls of your hotel room, a cabin is definitely the way to go for nice, peaceful nights and everything the comforts of your own home bring you. Also, there's no chance you'll disrupt anyone else if things get a little bit rowdy with the kids.
2. Get the View You Want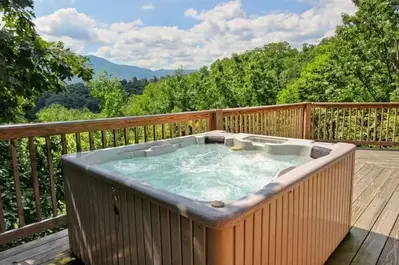 3. A Quiet Place Away from the Action
Despite the fact that there are endless amounts of entertainment to be gobbled up in Pigeon Forge, many people simply want to visit the mountains of East Tennessee because they love the cabin environment. You may not care for all the stimulation of traffic, arcades, live theaters and pancake houses, so you'll enjoy the seclusion your cabin offers. Just in case you have someone in your family that does enjoy all of these fun activities though, your Pigeon Forge cabin is still only a short distance from the attractions.
4. Save Money by Bringing A Large Group
5. Your Very Own Amenities
Our Pigeon Forge cabins have all the comforts of home, which means you can leave home and still have everything you need waiting for you when you arrive at your temporary "second home." Everything from silverware and dishes, to dish soap and laundry detergent are all things that will be available when staying in a cabin. Most hotels' prized amenity is just a refrigerator — and most are small ones at that.
Hopefully now you have a pretty solid idea of what you can expect to get out of a stay in a Pigeon Forge cabin that you just can't get from a hotel. Browse through all of our Pigeon Forge cabins and find the perfect one for a wonderful stay with your family.