Is Your Quilt Worth $20,000?
December 27, 2013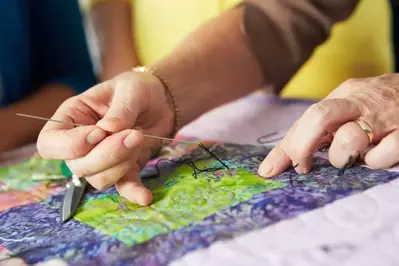 To celebrate 20 years of beautiful quilting, Pigeon Forge's 'A Mountain Quiltfest' is making its way back to the Smokies for another fabulous year! Quilters and crafters from around the world head to the Smoky Mountains, every year, to experience the exciting event in Pigeon Forge.
Whether you're a beginner or an experience quilter, this is a great event for everyone. There are a variety of classes available throughout the event to help everyone learn a little more about the craft.
Quilting Competition
The annual Quiltfest event hosts competitions in 10 different categories, with prizes valued up to $20,000. Do you think your quilt is worth the cash prizes? If so, you should considered entering your work in one of the categories!
The categories for the competition:
Small Professional
Large Professional
Machine Quilted Bed Quilts
Hand Quilted Bed Quilts
Non-Traditional Quilts
Small Quilts
Medium Quilts
Large Quilts
Youth Quilts
Other Quilts
How to Enter Your Quilt
To compete in any of the categories above, you will need to complete the Quilt Entry Form found on the website. Each person can enter 3 quilts, so make sure you choose your best works for each of the categories you choose!
The Must-Know Details
The event in Pigeon Forge will be held from March 19-22, 2014 at the LeConte Center in Pigeon Forge. Vacationers can find the LeConte Center at 2986 Teaster Lane.
Admission is absolutely free for everyone, viewers and quilters, unless quilters want their work judged by an NQS-certified judge. To do so, each quilt judging costs only $10, and you will receive all of the judging information about your work.
In addition to all of the beautiful quilts on display, visitors can browse through vendors to purchase a variety of threads, patterns and fabrics.
The Quiltfest event is hosted by the Piecemakers and Sevier Valley Quilters Guilds.
Where to Stay
When you stay with Auntie Belham's Cabin Rentals, you will be only a few short minutes from all of the fun at the Quiltfest event in Pigeon Forge. Whether you want to stay in Pigeon Forge or Gatlinburg, Auntie Belham's has you covered. Take a look at all of our cabins in Pigeon Forge and Gatlinburg, then give us a call at (877) 369-9694 to speak with our vacation specialists about your stay in the Smoky Mountains.