Top 5 Reasons Why Guests Love Staying In Our Riverside Cabins in Gatlinburg
April 8, 2022
Make the most of your vacation in the Great Smoky Mountains by staying in the beautiful riverside cabins from Auntie Belham's Cabin Rentals! These cabins have all the comforts and amenities you need for a relaxing time away from home. Whether you want a one bedroom cabin for a romantic getaway or a 3 bedroom cabin for a family, we have you covered! Check out these top 5 reasons why guests love staying in our riverside cabins in Gatlinburg.
1. Incredible Scenery
Most folks come to the Smoky Mountains to get away from it all, and there is no better place to do that than at Auntie Belham's Cabin Rentals! Our riverside cabins feature incredible scenery where you can enjoy the mountains, gentle flowing streams and the beauty of the woods. Step onto your private deck to relax among the fresh mountain air and to take it all in! Whether you are visiting in the winter months or the middle of the summer, the scenery around our cabins is truly a sight to behold!
2. Relaxing Ambiance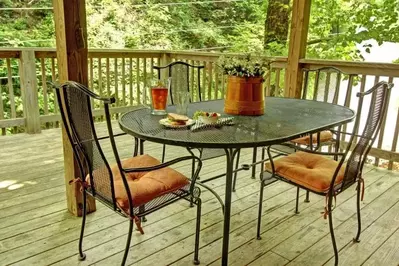 There is nothing more appealing than kicking back outside to enjoy the calm sounds of the river flowing by your cabin! This is the ultimate destination if you want to alleviate the stress of your everyday life and feel completely rejuvenated. It is no wonder why our riverside cabins are such a popular choice for so many of our guests!
3. Near Gatlinburg Attractions
Although our riverside cabins are situated in peaceful and isolated locations, they are still just minutes from all of the exciting sights of downtown Gatlinburg! Spend your afternoon exploring the famous Gatlinburg Parkway and check out attractions such as Ripley's Aquarium of the Smokies and the Gatlinburg Space Needle . After a busy day in town, you can look forward to the quick drive back to your comfortable cabin by the river.
4. Excellent Amenities
Our riverside cabins in Gatlinburg offer all types of excellent amenities for your enjoyment and convenience! Each cabin features a full kitchen where you can easily prepare meals, saving time and money from dining out at restaurants. Our cabins also feature bubbling hot tubs that feel wonderful after a day of hiking through Great Smoky Mountains National Park! Enjoy an evening of relaxing by the fireplace while you watch a movie on the flat screen television. For more entertainment options, stay in one of our riverside cabins with a game room!
5. Free Attraction Tickets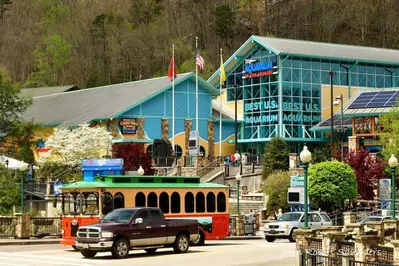 Top 5 Reasons Why Guests Love Staying In Our Riverside Cabins in Gatlinburg free tickets to Gatlinburg attractions that can help to save you and your family money on your vacation. This makes your trip to the Smoky Mountains more affordable than you ever thought possible! Our free attraction tickets are just one of saying "thank you" to all of our new and repeat guests.
Check out all of our riverside cabins in Gatlinburg today to plan your vacation to the Great Smoky Mountains! We look forward to seeing you soon at Auntie Belham's Cabin Rentals!