4 Reasons to Visit the Titanic Museum in Pigeon Forge
November 29, 2018
If you're planning a trip to the Smokies, the Titanic Museum in Pigeon Forge is a must-visit! People of all ages will love learning about the crew and passengers. There are tons of interactive exhibits and artifacts for you to enjoy while you're aboard. Whether you're visiting on a class trip, corporate retreat, or family vacation, this attraction is the perfect stop! Here are 4 reasons to visit the Titanic Museum in Pigeon Forge.
1. Interactive Exhibits
Upon entering your self-guided tour of the Titanic, you'll receive a boarding pass of an actual passenger/crew member! As you move through the museum, you can spend as much time as you'd like observing the various artifacts and enjoying the interactive exhibits. See what it was like on the Titanic as you can try to keep your balance on the sloping decks of the ship's stern. You can also touch a real iceberg, and reach your hand into 28-degree water! Before you head out, you can discover your passenger's fate in the Titanic Memorial Room, which holds a historic wall of 2,208 names!
2. Ideal for Special Occasions
Make your wedding one for the books and have it aboard the Titanic! There are various wedding packages for you to choose from. Each includes a photographer and photo package, a wedding coordinator, admission for the bride and groom to the attraction, and music. Additional package items vary depending on which one you select. You can also renew your vows in style with a presentation by the Captain or First Officer! If you're bringing employees together for a corporate event , the Titanic is the place to do it. The historic and elegant atmosphere is sure to spark creativity and inspire teamwork! Make your child's birthday extra special and surprise them with a Titanic party! They will receive admission to the museum, a personalized birthday button, and more!
3. Gift Shop
Be sure to stop by the gift shop for a souvenir to commemorate your trip to the museum. It has everything from fine jewelry and clothing to videos and books about the Titanic. You can browse the store for new collectibles to take home. The unique items sold here will also make excellent gifts for friends and family members. You can even shop online when you visit the store's page on their website.
4. Combo Offers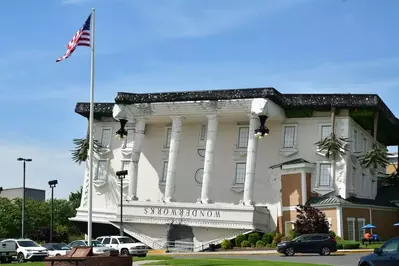 WonderWorks
Hatfield and McCoy Dinner Show
Now that you know all about the Titanic Museum in Pigeon Forge, it's time to start planning your trip! Come to see for yourself all it has to offer, and for the perfect place to stay while you're in town, check out our Pigeon Forge cabins. We look forward to seeing you at Auntie Belham's Cabin Rentals!