3 Things You'll Love About Our Gatlinburg Cabins With Mountain Views
September 21, 2022
When you need a break from the stress of life, a vacation can do you a lot of good. Our Gatlinburg cabins with mountain views make for the perfect vacation destination. They offer a cozy place away from the hustle and bustle of the city in the beauty of the Great Smoky Mountains. When you need a break from the quiet, you can still drive into town and explore Gatlinburg's numerous attractions. You can also take advantage of activities closer to home with our cabins' many amenities! Here are 3 things you will love about our Gatlinburg cabins with mountain views:
1. The View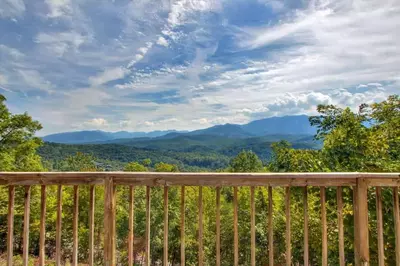 View from balcony of Gatlinburg CabinWhile you are staying with us, be sure to admire the postcard worthy view that is right outside your back door. The Great Smoky Mountains are among the oldest mountain ranges in the world! In fact, some of the trees in the Great Smoky Mountains National Park are estimated to be 100 years old! Even so, you aren't going to see any signs of aging as the beauty of the mountains is timeless! Have your morning coffee out on the deck and watch the sun rise. Come home after a great meal and unwind while watching the sunset! Make sure you bring your camera as the nature scenery provides a great backdrop for photos!
2. Proximity to Attractions
If you're looking for things to do with your time in Gatlinburg, the city has numerous attractions. Grab a delicious meal at one of Gatlinburg's many restaurants when you don't feel like cooking! You can go to Mama's Farmhouse and get all your favorite southern comfort dishes such as juicy fried chicken and buttery biscuits! The meal is served family style, so it is a great way to bring everyone together! After dinner, get yourself a sweet treat at Mad Dog's Creamery and Donuts. In the daytime, go explore Anakeesta! It is an adventure park with a variety of activities! Lastly, before your trip comes to an end, remember to pick out some souvenirs. Gatlinburg is home to many specialty shops filled with unique souvenirs! We want to make exploring the city more affordable! Cabin guests can receive one free adult admission ticket to a Gatlinburg attraction on each day of their stay. View all the free attraction tickets we offer!
3. Amenities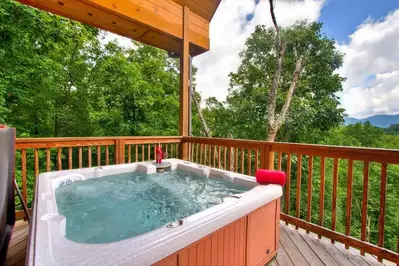 When you want to stay closer to home, our Gatlinburg cabins with mountain views offer numerous amenities. Take a dip in the hot tub. The warm water will dissolve any and all stress. Plus, you'll get a spectacular panoramic view of the Great Smoky Mountain wilderness! Cook all your favorite food in the full-size kitchen! You can also cook delicious hamburgers and hotdogs in the great outdoors with the charcoal grill! Some of our cabins even have home theaters! You can spend rainy days and nights watching movies or cheering on your favorite sports team! Wherever you are, there will never be a dull moment!
Our Gatlinburg cabins with mountain views are great for an unforgettable vacation. To start planning your trip, explore all our Gatlinburg cabins and their amenities!