3 Tips for Enjoying Our Pet Friendly Cabins Near Gatlinburg TN
April 2, 2022
Vacations are always exciting, but it's hard to say goodbye to your 4-legged critter when you leave. Your dog is an important member of your family, and it would be fun to get to share your trip with your beloved pup! That's why we are excited to offer pet friendly cabins! Save money on boarding costs and share the fun with ALL members of the family when you book with us! Check out these 3 tips for enjoying our pet friendly cabins near Gatlinburg TN:
1. Come Prepared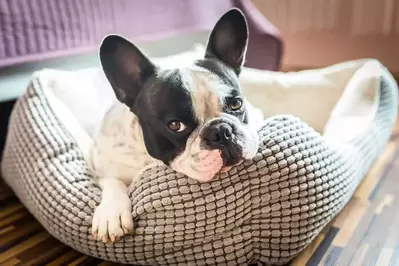 One of the most important aspects of bringing your dog to our pet friendly cabins near Gatlinburg TN is to remember to bring everything your pet needs to stay healthy and happy. You'll want to take your pup for walks, so make sure to pack a leash and harness, and be sure that your pet is always wearing a collar with up-to-date tags. When you leave fido behind at the cabin, you'll need to remember a crate to prevent potential damage to the property. Is your dog on any sort of medication? If so, don't forget that! And lastly, pack food and food bowls to prevent unnecessary purchases!
2. Do Some Research
While we welcome your precious pups to our pet friendly cabins near Gatlinburg TN, not everywhere in the Smokies is as pet friendly, so you'll want to do plenty of research so you know where you can and can't take your critter.
If you are looking to do some hiking with your dog, we recommend the Gatlinburg Trail . This path is nearly 2 miles long and fairly flat, making it a perfect spot to stroll or jog with your dog! This trail is surrounded by gorgeous views of the Little Pigeon River. Another wonderful walking path for you and fido is Oconaluftee River Trail . This gorgeous 1.5 mile trail provides a few small hills and beautiful forest surroundings. It is located in North Carolina, so plan for a short day trip to enjoy!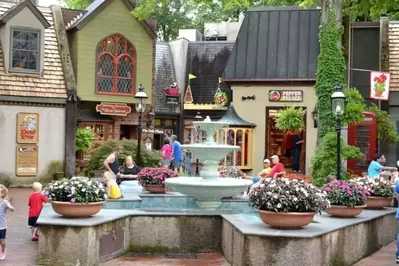 If you love to shop, The Village Shops is an awesome collection of quaint, independent shops that have everything from clothes,
candy and souvenirs. And the shops are surrounded by walking trails perfect for taking the pup for a stroll. Dogs are also welcome to explore the shops with you as long as they stay on a leash!
One of the coolest experiences you can share with your pup during your Smoky Mountain vacation is the Gatlinburg Sky Lift ! Grab the pup and prepare to be blown away by the view of the mountain tops and the city from high in the sky!
3. Invite Friends with a Dog
One of the most fun ways to enjoy our pet friendly cabins near Gatlinburg TN is to invite some friends and their dog! Our pet friendly cabins can accommodate 2 dogs, so you can have fun sharing your vacation with a friend, and your pup will have a friend, too! For example, Mulberry Place is a beautiful 3 bedroom/2 bathroom cabin that comfortably sleeps 8 people. This means that your family and another family or a couple friends can spend a fun weekend exploring all the attractions in Gatlinburg TN, and everyone will save money by sharing the cost of the cabin! A fun, affordable vacation with your friends and your pup, what more could you want?
Once you bring your furry family member on a trip to the Smokies, you won't ever want to leave them at home again! Are you ready to start planning your next trip? Look through our pet friendly cabins near Gatlinburg TN, and book one for your vacation!