Top 3 Places to Go Gem Mining in Pigeon Forge and Gatlinburg
August 28, 2020
If you always dreamed about mining for your own gems, you can now make that a reality during your Smoky Mountain vacation! There are several fun gem mines in the Smokies where you can actually search for treasures just like the original old-timer prospectors did in the American West! This is your opportunity to bring back an authentic gem and unique souvenir from your vacation! Here are the top 3 places to go gem mining in Pigeon Forge and Gatlinburg:
1. Pigeon Forge Gem Mine
The Pigeon Forge Gem Mine not only offers the opportunity to mine for your own gems, but a free rock and fossil museum! When you are ready to search for some treasures, step right up to the flume area and purchase the bucket of your choice! These range from the Baby Bear Bucket for beginner miners to the Big Bear, which is the best value for families. For those who might want to have their stones made into jewelry, consider purchasing one of the Speciality Buckets! After using the flume to find your gems, take them into the General Store and the Assayers will identify the stones for you!
2. Goats on the Roof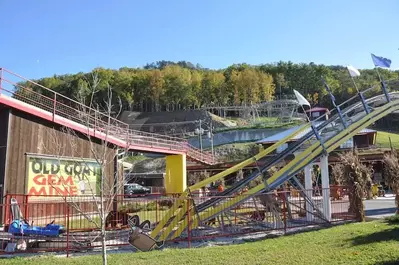 Another one of the top places to go gem mining in Pigeon Forge and Gatlinburg is Goats on the Roof , which is conveniently located right on Wears Valley Road! Everyone in your family will love searching for rare gems such as rubies, sapphires and emeralds! Just start with a bucket of soil and then sift it through an authentic water sluice. Once the moving current of water rushes the soil away from your screened tray, the treasures left behind will be revealed! This is the only gem mine in the Smoky Mountains with live goats living on the roof, so don't miss this unique destination!
3. Anakeesta
If you plan on visiting Anakeesta during your vacation to the Smokies, be sure to check out the gem mining attraction at this popular mountaintop theme park! An interactive waterfall and sluice allows kids of all ages to have fun as they search for that special gemstone or fossil! Once arriving to Anakeesta via the scenic Chondola ride or the Ridge Rambler adventure vehicle, you can find the Gem Mining at the start of the Treetop Skywalk and adjacent to the Children's Treehouse Village Adventure. Of course, Anakeesta is home to other exciting attractions too including the Dueling Zipline and the Rail Runner mountain coaster!
Where to Stay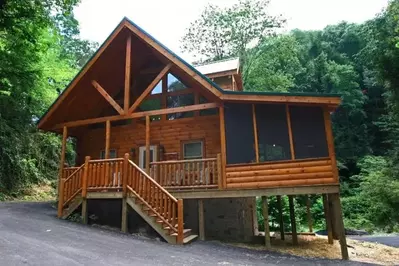 Discover a gem of a place to stay at Auntie Belham's Cabin Rentals! Our affordable cabins are situated in beautiful locations among the Smokies, but are still just minutes away from all of the wonderful attractions, restaurants and shops in Pigeon Forge and Gatlinburg! We have cabins of all sizes to meet your needs, as well as pet friendly cabins for those folks who want to bring their furry companion along for the fun! While staying with us, enjoy comfortable bedrooms, fully equipped kitchens, private decks with scenic views, hot tubs, fireplaces and much more!
Check out all of our Smoky Mountain cabin rentals today to stay near these fun places to go gem mining in Pigeon Forge and Gatlinburg! We look forward to seeing you soon at Auntie Belham's Cabin Rentals!