4 Things You'll Love About Our Smoky Mountain Chalet and Cabin Rentals
June 16, 2015
When it comes to planning a vacation to the Smoky Mountains, it is important to make sure you find the perfect place to stay. Not only is this where you and your loved ones will unwind at the end of the day, but it is also where you all will relax during your downtime and create new memories. That is why we think you should choose to spend your next stay inside one of our unbeatable Smoky Mountain chalet and cabin rentals.
Not only do these spaces give you your private place to escape, but they also offer a ton of extra benefits that you are sure to love.
1. Perfect For All Vacation Types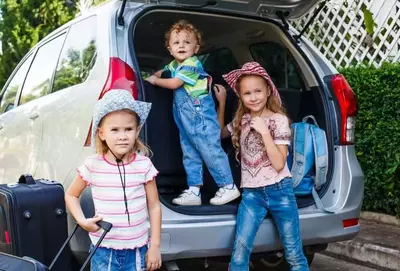 At Auntie Belham's we have a wide inventory that includes everywhere from 1 bedrooms cabins all the way to 9 bedroom cabins. This means whether you are planning a romantic trip for you and your special someone or a grand family reunion, we have the perfect cabin or chalet rental for you!
We even have cabins that are perfect for in-cabin weddings in the Smoky Mountains so newlyweds can exchange their vows while enjoying the scenic mountain view. This means that no matter why you are coming or who you plan on inviting, we can guarantee that you will have plenty of room for you and your guests to stretch out and unwind.
From the moment you step inside one of our Smoky Mountain chalet and cabin rentals, you can't help but feel relaxed. From the welcoming atmosphere to the open layout to the large windows, you will have everything you need to feel at home.
In addition to the atmosphere inside the rentals, the full kitchens, private bedrooms, laundry services and spacious living rooms will also help add to the home-like feel.
Click here to learn more about all the amenities found inside our cabins and chalets.
3. Scenic Views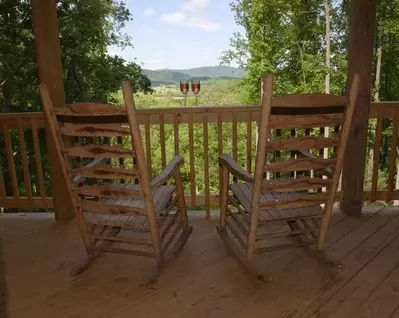 It's hard to talk about how relaxing our Smoky Mountain chalet and cabin rentals are without also mentioning the scenic views that come with these vacation homes. Whether you are looking for the perfect backdrop for a family photo or just something to look at as you wind down for the day, we promise you the view will not disappoint.
We recommend enjoying this peaceful setting while sitting back in one of the cozy rocking chairs found on your private deck. You can also catch glimpses of this beautiful scenery from inside your cabin, either from the living room or one of the bedrooms.
Although you may not think so at first, you may want to leave your vacation rental and go out and explore all the fun and exciting things around you. Yet, this is not such a bad thing thanks to the free attraction tickets you get just for staying with us.
For each paid night stay of your vacation, we will give you one free adult admission to several popular Smoky Mountain attractions, including the Ripley's Aquarium of the Smokies. This means that you and your family or group will get to experience many of your favorite family-friendly things to do in the area without having to worry about breaking the bank!
Click here to learn more about our free attraction tickets program.
If you enjoyed reading this, read our blog about How to Get the Most Our of Your Smoky Mountain Chalet and Cabin Rental.