4 Affordable Cabin Rentals in Pigeon Forge Tennessee Perfect For Families
March 21, 2016
Whether you're looking for a quick weekend getaway or a fun-filled trip of a week or more, Auntie Belham's Cabin Rentals has the perfect home away from home for your family! Our cabins are loaded with amenities including fully equipped kitchens and charcoal grills as well as game rooms and home theaters, and most importantly, they come at a great price point. Check out our top 5 most affordable cabin rentals in Pigeon Forge Tennessee:
1. Almost Paradise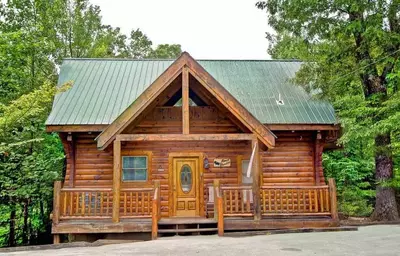 You'll feel like you're waking up in paradise when you stay in this 1 bedroom, 1.5 bath cabin. Although it's only 1 bedroom, this log cabin can sleep up to 4 guests comfortably. The tall windows and cathedral ceilings make it feel even bigger! Your family will feel right at home in this affordable cabin in Pigeon Forge. Prepare meals in the full kitchen, relax in front of the fireplace, or soak in the hot tub on the deck! Almost Paradise comes with its own entertainment, too! There is a TV mountain over the gas fireplace that gets over 75 HD digital channels, WiFi and a pool table. Whether you're relaxing or having fun, you'll love staying in this Pigeon Forge cabin.
2. Day Dreams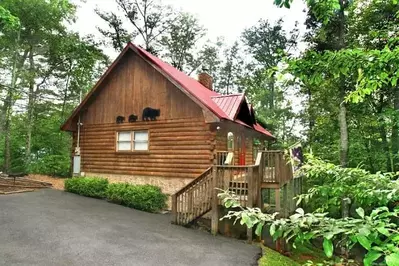 Perfect for a smaller family, this 2 bedroom, 2 bath, multi-level cabin sleeps up to 4 and is perfect for a much needed long weekend away. Nightly rental prices start at $145 but don't let its low price fool you – Day Dreams has plenty to offer! Sit back, relax and let your stress melt away in the Jacuzzi located in the master bathroom or the outdoor hot tub on the main porch.
Or cozy up in the downstairs home theater room and watch your favorite movies, play a few rounds of pool on the full-size billiards table, or challenge family members to a game (or three) of darts! Day Dreams offers a semi-secluded setting with a wooded view perfect for a quiet weekend away filled with plenty of time for family bonding!
3. Misty Morning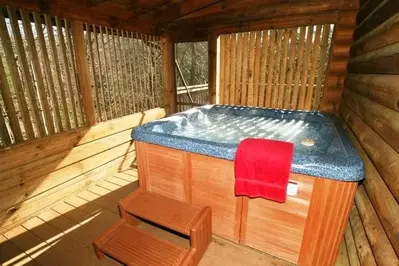 Recently updated, this 1 bedroom, 2 bathroom unit is perfect for a family of 4 looking for an affordable getaway. Regular rental rates start at $130 a night and even the most popular holiday dates (Memorial Day, July 4th) don't exceed $160. Misty Morning's low price and great amenities make it one of the best choices for families looking for affordable cabin rentals in Pigeon Forge Tennessee. Its wooded views allow your family to enjoy the sights and sounds of the great outdoors, with a porch, charcoal grill and picnic table that create the perfect setting for an afternoon meal, as well as rocking chairs and a hot tub for relaxing in the mountain air.
Inside you'll find a home theater with sound system, TVs, a DVD player, Wifi and an electronic dartboard. Located in the heart of Pigeon Forge, you're never more than a few minutes from all of the great shopping, restaurants and entertainment the area has to offer!
4. Buffalo Horn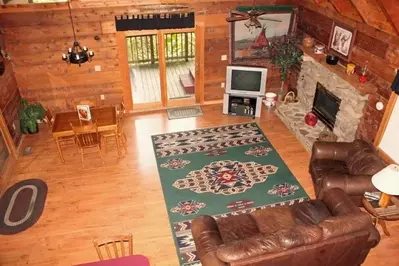 Buffalo Horn's unique interior makes it one of the coolest cabins on this list! This 2 bedroom, 2 bathroom cabin is decked out in a Native American theme that your family will love. Equipped to comfortably sleep 4, this cabin comes in at a very reasonable price point of between $140-160 nightly.
This cabin has a screened porch and charcoal grill perfect for spring/summer evenings spent enjoying a home cooked meal or relaxing in the hot tub. The loft bedroom offers spectacular views of the Smokies, and on par with the other cabins on this list, Buffalo Horn is equipped with a home theater, satellite TV, pool table, Jacuzzi tub and more!
Great getaways don't have to break the bank! There are plenty of affordable cabin rentals in Pigeon Forge Tennessee that don't skimp on features for your family.
To learn more about any of our units or to book any of these great cabins, click here.