Top 5 Benefits of Staying in Our Gatlinburg Cabins with Theater Rooms
October 20, 2017
Make the most of your vacation to Gatlinburg by staying in one of our amazing cabins with a home theater room! All of the excitement of the local multiplex comes to your private cabin as you watch the latest Hollywood blockbusters on the big screen. Kick back in the cozy chairs, grab some popcorn and settle in for a unique experience that might just become the highlight of your getaway to the Smokies! Check out these top 5 benefits of staying in our Gatlinburg cabins with theater rooms:
1. Perfect Rainy Day Activity
If you happen to experience a rainy day during your Gatlinburg vacation, don't let the weather spoil your fun! Head to your cabin's home theater room to spend a lazy afternoon watching your favorite films and television programs. Take advantage of this opportunity to relax as you enjoy a state-of-the-art sound system and flat screen television to combine for the ultimate viewing experience! Before you know it, the sun will be shining again and you can get back to the great outdoors.
2. Keeps the Kids Occupied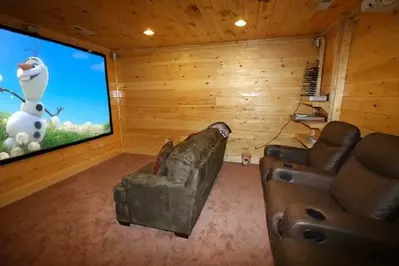 When taking a vacation as a family, it can sometimes be difficult to keep the kids entertained at all times. When staying in our Gatlinburg cabins with theater rooms,you can leave those worries at home! The kids will love watching cartoons, movies and other fun shows on the big screen throughout the day. The theater room is also a great place for the kids to unwind at night after a busy day of exploring Gatlinburg!
3. Makes Your Vacation More Affordable
While there are plenty of sights and attractions to enjoy in the Great Smoky Mountains, the cost of admission fees and tickets can quickly add up. The home theater rooms from Auntie Belham's Cabin Rentals provide something fun to do throughout your vacation without any additional expense. There is no need to pay for movie theater admissions and other attraction fees when you have such an awesome activity to enjoy in your cabin!
4. Convenient Access to Instant Entertainment
You will love the access to instant entertainment when staying in our Gatlinburg cabins with theater rooms! Whether you are a night owl or an early riser, you can access the theater room at any time for something fun to do. If you are staying in one of our group cabins, gather everyone together to catch the big game or watch the latest movie releases.
5. Impress Your Family and Friends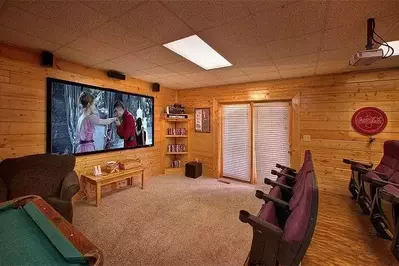 There is nothing quite as impressive as walking into a cabin for the first time to be surprised by a home theater room! Keep it secret from your family and friends and just wait to see the look of delight on their faces when they see this fantastic amenity. Cuddle up with your spouse to watch a romantic movie, stay on the edge of your seat with an action thriller or enjoy a family movie with the kids. The opportunities for fun in the home theater room are virtually endless!
Check out all of our Gatlinburg cabins with theater rooms today to experience the ultimate in entertainment! We look forward to seeing you soon at Auntie Belham's Cabin Rentals!