Christmas at Dollywood Named a Top Holiday Theme Park Celebration
November 30, 2015
Dollywood is an amazing place to visit no matter what time of the year it is. However, Christmas at Dollywood holds a very special place in the hearts of the people who travel from all over the country to experience this beautiful holiday celebration. This year, Christmas at Dollywood has received national recognition. The Travel Channel compiled a list of their favorite holiday events held at theme parks and Dollywood made the list, which is outstanding news as Dollywood also celebrates its 30th anniversary.
Just below Mickey's Very Merry Christmas Party held at the Magic Kingdom, you will find Dollywood's Smoky Mountain Christmas in second place. Also listed in the Top 7 Theme Parks for the Holidays are Tokyo Disney Resort's Countdown Party, Holidays Around the World at Epcot and Winter at Europa Park in Germany.
Here are a few reasons why Christmas at Dollywood was named a top holiday theme park celebration.
Every Christmas at Dollywood, the theme park lights up with 4 million twinkling lights that are displayed throughout the park. Each of these twinkling lights is part of a magnificent display of colors and each park ride has its own Christmas theme to honor.
No Christmas at Dollywood is complete without stopping by and seeing Santa Claus hard at work in his workshop or visiting with Rudolph and all his friends.
Santa's Workshop
In Santa's Workshop in Celebration Hall, you will step inside the giant toy store, where larger-than-life-sized toys greet. While you are there you can explore, have fun and participate in interactive activities such as gazing through the oversized ViewMaster and of course, spend time with Santa Claus.
Rudolph's Holly Jolly Junction
After visiting Santa's Workshop head over to Rudolph's Holly Jolly Junction, a magical area where festive fun awaits you and your family. At the Holly Jolly Junction, you can meet Rudolph and his friends, including Clarice, Bumble the Abominable Snow Monster and Yukon Cornelius who have come exclusively to Dollywood to meet and play games with you.
No Christmas at Dollywood visit is complete without experiencing the spectacular holiday shows. Every year, Dollywood features spectacular Christmas performances, but this year's performances are even more amazing. One reason for that is there is an all new performance, Dollywood's A Christmas Carol, that you don't want to miss.
Dollywood's A Christmas Carol
Dollywood's A Christmas Carol is an all new adaptation of the Dickens classic. Set amid lavish Victorian scenery, the class story of redemption hope is underscored by seven power new songs written by Dolly Parton especially for this 45-minute musical. Also, for the first time ever in theme park history, cutting-edge holographic technology brings Dolly to the stage in a very special role as the Ghost of Christmas past in this heartwarming musical that follows the inspiring and powerful transformation of Ebenezer Scrooge.
Christmas in the Smokies
Christmas in the Smokies is a Dollywood musical Christmas tradition that features a 12-member cast performing hometown holiday favorites that celebrate the joy of the season.
Christmas in Dollywood is a joyful experience that you don't want to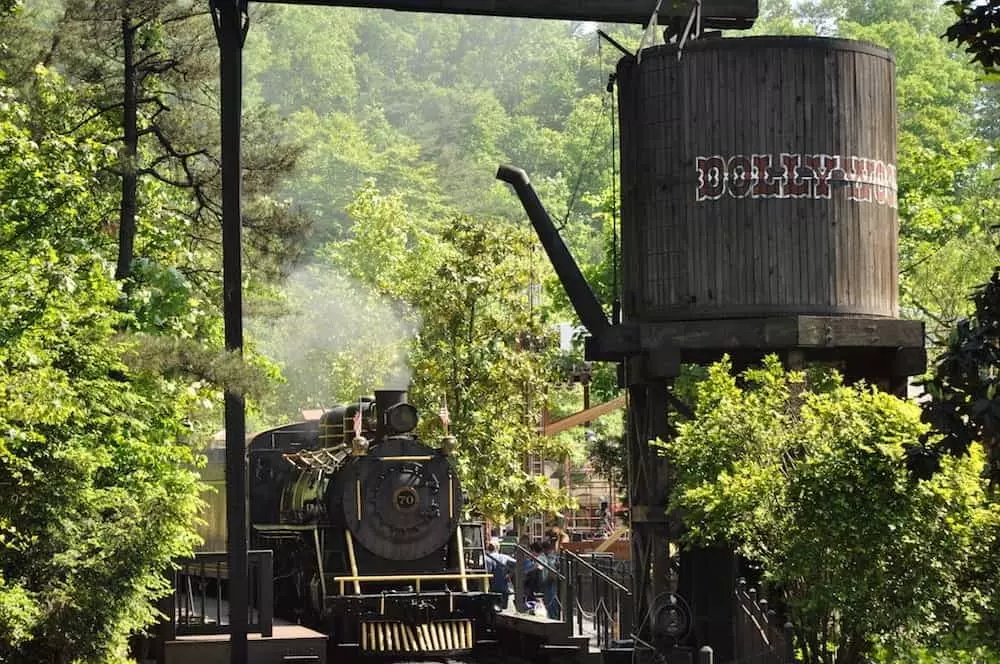 miss out on. To ensure you don't miss the Christmas in Dollywood celebration, check out our Pigeon Forge cabins that will make you feel right at home during your holiday getaway.