Top 4 Things to Bring to a Movie Night in Our Gatlinburg Cabins with Home Theaters
July 23, 2018
If you are a movie fan, you will love staying in the cabins with home theaters from Auntie Belham's Cabin Rentals! The amazing home theater rooms in these cabins feature all the sights, sounds and excitement of the multiplex for the ultimate viewing experience! Here are the top 4 things to bring to a movie night in our Gatlinburg cabins with home theaters:
1. Popcorn and Snacks
Of course, no night at the movies is complete with popcorn, candy and other goodies! All of the cabins from Auntie Belham's Cabin Rentals feature a fully equipped kitchen so that you can easily prepare anything from snacks to full meals! If you need to pick up some grocery items on your way into Gatlinburg, there are several grocery stores in Pigeon Forge including a Kroger, Publix and Food City. Once you have a tasty beverage and a bowl of popcorn ready to go, settle in for the latest blockbuster movie in your private home theater room!
When packing for your trip to our Gatlinburg cabins with home theaters, bring some of your DVD collection from home! When you watch your favorite movies in our home theaters, you will be able to enjoy them like you never have before! With everything from a huge screen to a state-of-the-art sound system, you can prepare for an unforgettable viewing experience in the privacy of your own cabin. If you prefer to rent some of the most recent releases, there are several Redbox kiosks in Gatlinburg . These convenient DVD rental kiosks allow you to rent movies on a nightly basis at a nominal fee, and there is no membership required! Simply use your credit card to rent any movie and return it by 9 p.m. the next night.
3. Pillows and Blankets
While our home theater rooms offer plenty of cozy seating, you might want to bring some pillows and blankets from the bedroom for even more comfort! As a bonus, if you watching a spooky horror movie you can pull a blanket over your eyes if you get too scared! Relaxing in the home theater room is the perfect way to unwind each evening after an active day of exploring the Great Smoky Mountains!
4. Group of Friends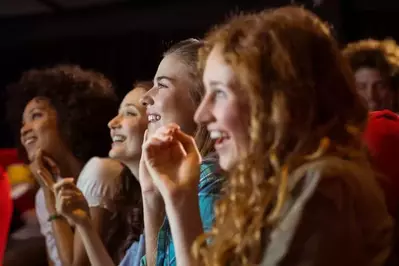 When it comes to movie night at Auntie Belham's Cabin Rentals, the more the merrier! Our Gatlinburg cabins with home theaters have up to 9 bedrooms so that you can bring a large group of friends to enjoy the Smokies! There is nothing like watching a movie together and laughing out loud to a comedy while enjoying all types of delicious snacks. While staying in our cabins, you can also take advantage of other fantastic amenities such as hot tubs, fireplaces, game rooms and private decks with scenic views of the mountains!
Check out all of our Gatlinburg cabins with home theaters today to play your vacation to the Great Smoky Mountains! We look forward to seeing you soon at Auntie Belham's Cabin Rentals!