4 Reasons Why Our Large Cabins in Gatlinburg are Perfect for Groups
June 12, 2019
Are you planning a group vacation or retreat and need a place to stay? We have the perfect large cabins in Gatlinburg for any big group event! Look at these 4 reasons why our large cabins in Gatlinburg are perfect for your next getaway:
1. Room for Everyone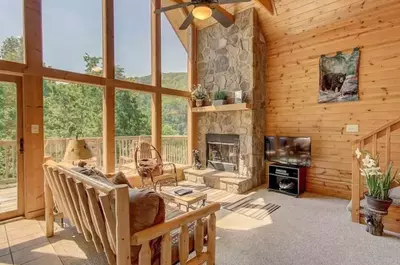 When you book one of our large cabins in Gatlinburg, you'll have plenty of space for everyone who is going to be there. Unlike a hotel, everyone can have their own rooms, many of which come with attached bathrooms. While you'll have your privacy, you'll also have social space, such as the living room, to sit together and talk. The large, fully equipped kitchens in these cabins have enough room for everyone to spread out while you eat community meals. Many of these cabins have outdoor areas where kids can play together. By staying in a cabin, you won't feel cramped like you would in a hotel.
2. Provide Privacy
Our large cabins in Gatlinburg provide you with plenty of privacy. Since everyone gets their own room, you have a space that is just yours on your getaway. The entire group gets privacy away from strangers, unlike at hotels where you have to share common spaces and breakfast areas. When you cook meals in the kitchen, you get to sit together instead of having to be split up at restaurants. Plus you'll be able to communicate better! Since these large cabins in Gatlinburg are away from the city and neighbors, you'll feel secluded. You won't want to stay anywhere else once you have all this privacy!
3. Quality Time Together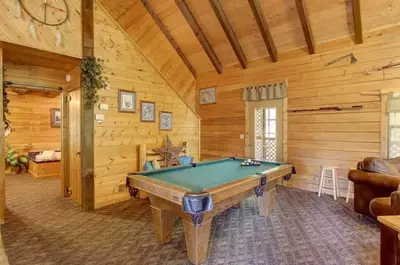 If you stay in a hotel, you have to be mindful of other guests, which makes it harder to socialize with your family and friends. At a cabin, you have the freedom to spend long hours in front of the fire together. Play games like foosball, ping pong, and pool together in the game rooms. Hang out in the hot tub and pool, or sit and watch the sun set on the porch. Some of these large cabins in Gatlinburg have home theaters, giving you a place to watch movies together. You'll love being able to spend quality time together in a cabin.
4. Reduce Vacation Cost
When a large group of people books a large cabin in Gatlinburg, it may seem like the cost per night is high. However, when you split the cost evenly between everyone who is going to stay in a cabin, it becomes extremely affordable! It tends to be less expensive than a condo or hotel. With a fully equipped kitchen, families and friends can save on the food budget by buying food to cook instead of going out for every meal. When you stay in a hotel, there's not really anything to entertain you in the room, so you go out and pay for things to do. In our cabins, you'll have home theaters, hot tubs, pools, game rooms, and so much more to entertain you, preventing you from having to pay for entertainment every day. All of these things can help you reduce your vacation cost.
Groups will love staying in a huge cabin together on vacation. Browse through our large cabins in Gatlinburg, and book one today!