We Need Your Help! Vote Auntie Belham's for Best Cabins in Pigeon Forge
July 25, 2016
Auntie Belham's is excited to announce that we've been nominated for the Best of Pigeon Forge contest…and we need your help to win! Each year, PigeonForge.com asks fans of the Smoky Mountains to vote for the area's best lodging providers, restaurants, drinks, attractions, and wedding services. If you've enjoyed vacationing with Auntie Belham's, we're asking you to vote us the best cabins in Pigeon Forge. Here is how to vote:
How to Vote for the Best of Pigeon Forge
You can vote in the Best of Pigeon Forge contest at this address: ttps://www.pigeonforge.com/best-of-pigeon-forge-2018/
Auntie Belham's is listed under the "Best Lodging in Pigeon Forge, Tennessee" category, in the "Best Cabin" subgroup. Voting runs through August 31, so be sure to share the contest with your friends and family on social media. Thank you so much for voting for Auntie Belham's – it means the world to us!
Over 20 Years of Experience
What separates Auntie Belham's from other cabin rental companies in the area is our 20+ years of experience in the industry. We have helped thousands of people plan their vacations in Pigeon Forge, so you can trust us to make your getaway unforgettable. Whether it's choosing the perfect cabin, suggesting things to do, or helping you decide on a restaurant, our friendly staff members are there to provide insider advice that you won't find anywhere else. There is nothing we enjoy more than meeting new guests, learning what their interests are, and tailoring a vacation just for them.
(See Also: 5 Amazing Pigeon Forge Cabins Near the Parkway)
Auntie Belham's truly does have the best cabins in Pigeon Forge. With everything from 1 bedroom cabin rentals for a romantic retreat, to 9 bedroom cabin rentals that sleep up to 41 guests, we can accommodate vacations of virtually any size. Our properties come with all of the amenities you desire for a getaway in the Smokies, including fully furnished kitchens, soothing hot tubs, and decks with spectacular views of the mountains. We also offer a wonderful selection of pet friendly cabins, so your dog can join you on your Pigeon Forge getaway!
Save Money
Here at Auntie Belham's, we provide ample opportunities for our guests to save money on their trip. With our Smoky Mountain Adventure Pass, guests get one free adult admission to a variety of great attractions every day of their stay. Our Adventure Pass can be redeemed at the following attractions: Ripley's Aquarium of the Smokies, WonderWorks, Hatfield & McCoy Dinner Show, Smoky Mountain Opry, Darren Romeo: Magic Beyond Belief, Comedy Barn Theater, Amazing Animals, Adventure Park Zip Lines, Legacy Mountain Zip Lines, Big Creek Expeditions, USA Raft, Country Tonite, and the Smith Morning Variety Show.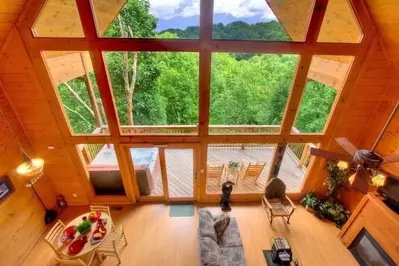 In addition to our free attraction tickets, Auntie Belham's offers a number of excellent discounts and promotions to save you money on the best cabins in Pigeon Forge. With these deals, you can get 10% off your stay, 15% off your stay, or even a free night in a cabin. Check out our Pigeon Forge Cabin Specials page to see how much you can save on your vacation!