The Top 3 Gatlinburg Shopping Destinations
October 14, 2020
In addition to its incredible natural beauty and fun family attractions, Gatlinburg, TN also offers some wonderful places to go shopping! Whether you're looking for a gift for your friends and family back home, or something for yourself, you are guaranteed to find exactly what you are looking for in our Smoky Mountain city. To help you plan the perfect shopping trip for your next vacation, Auntie Belham's Cabin Rentals has put together this guide to the top three Gatlinburg shopping destinations:
If you're looking for handcrafted souvenirs, it's hard to beat the Great Smoky Arts & Crafts Community ! This 8 mile loop east of downtown Gatlinburg showcases the work of the largest group of independent artisans in North America. Visitors to the Arts & Crafts Community will find galleries and shops featuring pottery, paintings, photography, jewelry, wood carvings, quilts, baskets, dolls, brooms, and many more handmade products.
Touring the Arts & Crafts Community is a great way to spend an afternoon, and there are a number of wonderful restaurants in the area if you want to break for lunch. Here are a few of our favorite spots in the Arts & Crafts Community:
Alewine Pottery
Santa's Claus-et
Paul Murray Gallery
Make it Magic
Lorelei Candles
(See Also: 5 Tips for a Weekend Trip at Our Gatlinburg Vacation Cabins)
The Village is another one of the best Gatlinburg shopping destinations. Located in downtown Gatlinburg next door to the Pancake Pantry, The Village is a charming collection of shops that features 27 different boutiques. With its brick pathways and old fashioned buildings, this unique area truly does look like a quaint German village. If you're in search of speciality items, The Village is certainly the place to be. Some of the shops you will find here include:
The Day Hiker
The Spice and Tea Exchange
Thomas Kinkade at The Village
Celtic Heritage
The Donut Friar
3. Nantahala Outdoor Center
Anyone looking for hiking supplies should definitely stop by Nantahala Outdoor Center ! This 18,000 square foot store has everything you need to explore the Great Smoky Mountains National Park. Carrying products from The North Face, Columbia, Patagonia, and other trusted brands, NOC is the area's best outdoor outfitter.
In addition to all of its great products, NOC is just plain fun to visit. The store has a swinging rope bridge, a large toasty fireplace, and a bear cave that is a hit with kids. NOC also boasts a very knowledgeable staff who will help you plan your adventure in the Smokies right in the store.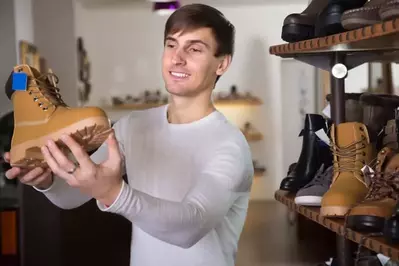 When you stay with Auntie Belham's Cabin Rentals, you will be just a short drive from all of these wonderful Gatlinburg shopping destinations. With everything from 1 bedroom cabins to 9 bedroom lodges, Auntie Belham's offers one of the best vacation rental selections in the area. Guests at our properties will enjoy the very best amenities, including breathtaking mountain views, fully furnished kitchens, soothing hot tubs, and endless in-cabin entertainment. To start planning your next getaway, browse our collection of Gatlinburg cabin rentals!