3 Reasons to Stay in Smoky Mountain Cabin Rentals with a Hot Tub
March 15, 2016
A cabin in the Smoky Mountains is a great place for a vacation, whether it be a honeymoon, a large family reunion, a church retreat, or even just a vacation for you and your kids! No matter the season, there is one thing that always makes a vacation even better: Smoky Mountain cabin rentals with a hot tub!
1. Honeymoon Vacation for Two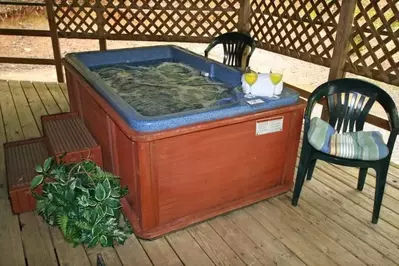 Are you looking for a romantic getaway in the mountains? Look no further than Afternoon Delight! This quaint 1 bedroom log cabin has everything you'll need for a quiet, relaxing weekend with your significant other. Wake up and enjoy a hot cup of coffee in the rocking chairs on the front deck, spend the afternoon enjoying the beautiful scenery while soaking in the secluded hot tub, and end your evening cuddled up in front of the wood-burning fireplace. If you don't like the idea of leaving your pup at home while you're enjoying your weekend away, this is one of our pet-friendly Smoky Mountain cabin rentals with a hot tub!
2. Vacation for a Large Group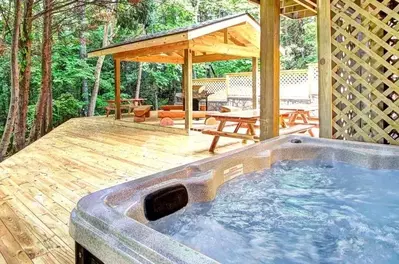 The Smoky Mountains are an ideal vacation destination for large groups, such as church groups, sports teams, or even your large multi-family reunion! With both Gatlinburg and Pigeon Forge right around the corner, the Smokies have plenty of fun activities to keep a crowd entertained. Part of the fun of a large group vacation is keeping everyone together and interacting with each other, and the best way to do this is by renting the All-American, a 5500 square-foot sports-themed cabin with 9 bedrooms and 9 bathrooms that will sleep 41 people! The All-American is minutes from downtown Gatlinburg and features a huge theater room with a surround-sound system, a game room with a variety of entertaining games like foosball and ping pong, an extra large deck with swings, lots of seating, a covered gazebo, and even a big hot tub!
3. Single Family Vacation in a Cabin with a Hot Tub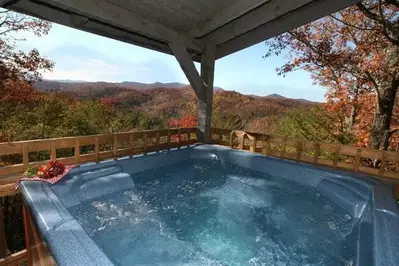 Life can be very hectic! You're busy with work and errands, your kids are busy with school and extracurricular activities and you need a break! A vacation in one of our Smoky Mountain cabin rentals with a hot tub is exactly what you need to slow down and enjoy some downtime with your family. Above The Tree Tops, a 3 bedroom cabin with breathtaking views from every room, has something for everyone in the family. The house features a large kitchen with everything you need to prepare delicious meals for the whole family to enjoy around the large dining table. This cabin is also equipped with arcade games, a large porch, a gas fireplace, and several DVD players, guaranteeing that no one will be able to say "I'm bored"! And best of all, there is a secluded hot tub large enough for the whole family to enjoy!
Now that you are sure one of our Smoky Mountain cabin rentals with a hot tub is the right choice for you, click here to book today!